By Natalie Hildt Treat | Fri, January 6, 12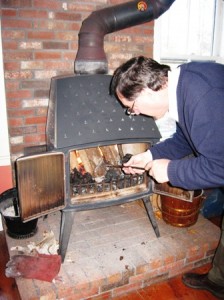 See WGBH's report on the home energy assessment here
. It's not always easy to take advice from your kid. And when it comes to energy efficiency, I've got plenty to offer. After many visits to my father's 19
th
century house when I'd grouse about the drafts and bee-line for the wood stove, I finally hatched a plan to help my dad David Hildt and his wife Kate Broughton figure out how to make their home more efficient.
The goal:
get a
Mass Save
Home Energy Assessment, and then actually figure out how to put recommendations to action while taking advantage of incentives, tax credits and loans. To up the ante, why not turn the media spotlight on things? I figured it would help educate others while encouraging follow-through. This is the first of periodic installments on their journey. David and Kate live in an 1874 farmhouse in Amesbury, Massachusetts. Five kids are mostly launched, and they may look to sell down the road – or at least want to lower bills and increase comfort as long as they stay. Last year they spent about $6,200 on electricity and heat for about 2,400 sq. ft. That seemed awfully high to me, especially considering they keep the heat low in winter and rarely use the window AC in summer. Just for comparison's sake, I took a look at my own gas and electricity costs. I figure I'll spend less than $1,300 this year at my 1,100 sq. ft. condo in Somerville, which was completely renovated as a high-efficiency building. I heat with gas and have central AC. Not apples to apples, but gives some perspective. Dad's house is heated with oil, wood and even a little propane. Over the past 130 years, owners have added on and remodeled, and efficiency has rarely been top of mind. The windows and furnace are at least 30 years old, there is insufficient insulation and air sealing, the refrigerator is old. Ugh. I can understand why
Energy Pulse 2011
dubbed home energy assessments "the colonoscopy of energy efficiency." David and Kate have already worked to conserve energy, including things like installing some compact fluorescent bulbs, putting in a new storm door, hanging curtains to cut down on drafts. They are even squeaking under the wire with federal tax credits by replacing three of their worst windows. But when looking at the whole house, it's rather daunting to figure out where to begin – uncovering where the biggest savings lie, and navigating through the utility-sponsored programs to get advice and incentives.      

The Home Energy Assessment
   It was time to call
Mass Save
for a Home Energy Assessment, a program offered by electric and natural gas utilities across the state and funded by ratepayers through the system benefits charge. And as long as they were sending someone to crawl around the house investigating energy-saving opportunities, I thought, why not invite a reporter to tag along?
WGBH radio
's Ibby Caputo joined us for the assessment a few days before Christmas and will soon bring the story to greater Boston listeners. We began with chatting about the program and what they hope to get out of it – cost savings, greater comfort, increased home value. Next we all traipsed around behind energy specialist Nate Dick of Conservation Services Group as he took measurements, climbed, poked and prodded around the basement, crawl spaces, walls and windows. He did a combustion safety test on the furnace to make sure there won't be problems when they do tighten up the house. His infrared camera showed where heat was escaping, and he explained where the best chances to add insulation, air and vapor barriers would be, given the condition of the house. Nate also installed 22 CFL bulbs and two faucet aerators as part of the visit. Swapping five 40W incandescent globes on the bathroom vanity for 14W CFLs will save 75% of electricity, for example. They look like the old bulbs but are even brighter, after a slightly delayed start. The new shower head has great water pressure, and will save about ¾ gallon per minute, or about 7 gallons for a ten minute shower. That's saving propane as well as water. He hooked up the 12-year-old fridge to a Kill-o-Watt meter, determining that it uses about 886kwh/year – not quite enough to qualify for an incentive from National Grid. But still, we figured when they do upgrade to an ENERGY STAR® model that uses about 400-500kWh/year, they stand to save around $75 a year on their electric bill.
What's Next?
  At the end of the visit, Nate generated a Home Energy Assessment Report with recommendations on specific measures to take in terms of things like air sealing and insulation, upgrading the old furnace and small behavioral tips to save energy too – like using advanced power strips, washing in cold water and insulating pipes. By his estimate, they could save about a third of their energy costs – mostly through targeted insulation and air sealing, and by upgrading the heating system in coming years. Nate laid out a package with specific measures that come with $2,000 of incentives as National Grid electric customers. If they undertake them all, their contribution would be about $1,500 or so, with an estimated payback of 1.5 years. They can choose to finance with a zero-percent Mass HEAT loan, also part of the ratepayer-funded efficiency programs. But before they move ahead with anything, he explained that they need to install a vapor barrier in a tricky crawl space under the mudroom. "Health and safety are always first and foremost," Nate said. At this point they are figuring out how to do that so they can keep going with weatherization measures that will increase comfort and help lower their monthly energy bills. Stay tuned for updates on how David and Kate go about making the home more efficient and what kind of savings they see on their energy bills. Like a good daughter/efficiency zealot, you can be sure I'll do whatever I can to help them through the process! You can take a look at the actual
Home Energy Assessment Report
and an info sheet called
"What's Next?"
Natalie Hildt is Manager of Public Policy Outreach at Northeast Energy Efficiency Partnerships and is proud to have worked in efficiency for more than a decade.
 A slide show of the Home Energy Assessment