By Chouleng Soun | Sat, October 15, 16
On August 28, NEEP's executive director, Sue Coakley, attended the New England Governors and Eastern Canadian Premiers (NEG/ECP) 40th Conference. The annual conference allows the opportunity for the Northeast Governors and Eastern Canadian Premiers to discuss mutual issues concerning energy, economic development, trade, and public health. The eleven-member jurisdiction of this collaboration include: Massachusetts, Maine, Connecticut, New Hampshire, Rhode Island, Vermont, Nova Scotia, Prince Edward Island, New Brunswick, Quebec, Newfoundland and Labrador.
Since 1973, the six New England states and the five Eastern Canadian provinces have worked cooperatively to address their shared interests across the border. Through the annual conferences of governors and premiers and discussions of joint committees, NEG/ECP encourages cooperation by developing networks and relationships, taking collective action, engaging in regional projects, undertaking research, and increasing public awareness of shared interests. Recently addressed topics were ensuring a clean, efficient and reliable energy future for the region (closely aligned with NEEP's primary directive), energy innovation for a competitive economy, transportation and air quality, climate change action plans and greenhouse gas emission reduction strategies, and energy efficient vehicle and infrastructure technologies.
This year's conference was hosted by Governor Charlie Baker in Boston, Massachusetts. In Sue's opinion, the conference provides a great platform for NEG/ECP to continue their discussion on how they plan to achieve their commitment to an 80% carbon reduction by 2050. Energy efficiency was clearly a principal topic as nearly all members of the jurisdiction commenced their speeches with energy efficiency.
Governor Peter Shumlin (VT) conveyed renewable energy as the vital variable to achieving carbon reduction goals, as the country moves away from petroleum, oil, and gas. The governor also looks to renewable energy for economic progress as Vermont proves to be a testament of this relationship. As of August 2016, Vermont has the fifth lowest unemployment rate in the country—with 1 in 17 jobs belonging to the clean energy industry. He later explained that efficiency and renewable energy jobs are offering great job opportunities for Vermont's younger population, which is a challenge Vermont has struggled with. Governor Shumlin's speech displays the importance of business models that enable utilities to profit from clean energy, because doing so can create market opportunities for others.
On July 19, Governor Shumlin signed an executive order giving preference to companies who actively work to fight climate change, awarding hundreds of millions of dollars in State contracts each year.
"Climate change is the most urgent environmental issue of our time," Gov. Shumlin said.
"Vermont has been a leader in America when it comes to combating global warming, but we can and must do more."
The Executive Order directs the Secretary of Administration, working in consultation with the Governor's Climate Cabinet, to include processes in State's acquisition policies that ensure the favorable consideration of vendor business practices that include the use of thermal and electric efficiency and conservation measures, the use of renewable energy sources for operation, efforts to reduce and track carbon emissions, encouragement of employee use of electric and zero emission vehicles (including providing workplace charging stations), and offering employees an option for a fossil fuel divested retirement account, among other measures.
Later in the evening, Governor Gina Raimondo (RI) professed the importance of State collaboration, and how the top-down approach Rhode Island has taken will help it reach its carbon reduction goals. The governor expressed that Rhode Island will focus on bringing clean energy solutions to municipal buildings that open the door for new infrastructure, and provides the capability for these solutions to be applied more broadly.
"This top-down approach is about leading by example," Governor Raimondo said, and it is clear that the approach is taking effect. The first round of funding for financing programs available to Rhode Islanders are already oversubscribed. Collaboration, leading by example, and working with communities are essential themes in Rhode Island's plan to reduce carbon emissions, and they seem to be working.
Other notable speakers of the evening included Governor Dannel Malloy (CT), who spoke about his commitment to the carbon reduction goal, also detailed how Connecticut Green Bank, the nation's first green bank, has provided major financing for investments in efficiency and renewables across the state. The green bank is a major hallmark in Connecticut's plan to create a marketplace that will accelerate clean energy solutions, and has been championed in the Senate by both of Connecticut's US representatives.
Premier Brian Gallant (New Brunswick) described his plans to make the province 40% renewable by 2020 through major efforts in electric vehicles and decarbonizing transportation. The premier explained that by reducing their footprints and saving money, it makes it possible for them to invest in renewables.
Premier Gallant kept his energy policy front and center throughout his campaign leading up to his appointment in 2014, and has made strides for New Brunswick since. Most recently, he helped approve a $10.25 million investment to Mount Allison University in Sackville, New Brunswick, to aid in establishing an environmental innovation and research complex. The money will also go to renovating two aging buildings, improving energy efficiency.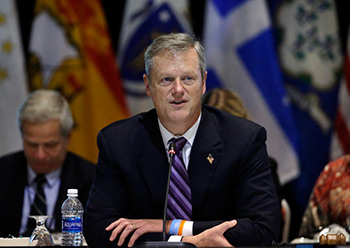 "The real heavy lifting on this starts now."
- Governor Charlie Baker
To conclude the conference, Governor Baker invited his colleagues from across the region and Canada to a Red Sox game at Fenway Park. Sue was in attendance, and personally commended Governor Baker on his leadership and regional strategies. During the conference, the governor spoke about the importance of efficiency and his desire for Massachusetts to continue to have a national presence in the clean energy movement. He also spoke about his commitment to solar and offshore wind energy, and how these investments will allow us to afford the transition to a clean renewable economy. In August, Governor Baker signed a new law allowing Massachusetts to purchase more hydro and wind power than ever before.
"Through solicitation and procurement of long-term contracts for hydro and wind power, Massachusetts and New England can remain a leader in clean and renewable energy production," Baker said.
But to him, the work is just beginning. "The real heavy lifting on this starts now."
What is the takeaway from these highlighted speeches and conversations? As a region, we are certainly headed in the right direction, but with much progress still to be made. As we march toward a cleaner, renewable economy, the right models and practices for states, businesses, and communities will become clearer. And although it may not always be the most glamourous, the Energy Efficiency industry may be seeing a rise in perks— the governor might even take you to a Red Sox game for it.