By neepenergy | Mon, April 2, 12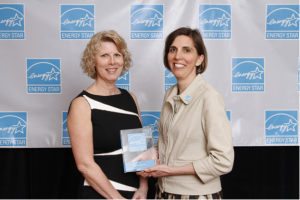 NEEP along with many of its Sponsoring organizations, were recently recognized for its a collaborative work accelerating energy efficiency through the promotion of ENERGY STAR products.  Our Sponsors are energy efficiency program administrators and electric and gas  utilities.  When it comes to our work here at NEEP, all of these companies participate for the same reasons: to capture significant energy and emissions savings that are as cost effective as possible for their customers.  This distinct collaboration is the reason why the Environmental Protection Agency is awarding our Retail Products Initiative with its sixth Sustained Excellence award- it's most prestigious recognition. Throughout 2011, NEEP and its sponsors worked hard to promote energy efficiency and build the market for efficient lighting, electronics, and appliances. Collectively, these efforts reached over 15 million households in New England and New York. As a result, the Initiative:
worked cooperatively with a total of 4,039 retail partners including big-box do-it-yourself and membership warehouse chains, as well as food and drug outlets including pharmacies, hardware stores and key grocery chains in the region.
helped enable many retail locations to offer CFL recycling at no cost to consumers.
accelerated gains in accessibility of products in all four appliance product categories, achieving a record high amount of ENERGY STAR appliances available in regional market channels.  
The work of the Initiative last year, will achieve over 5 million MWh in lifetime energy saving and over 3.86 million tons in greenhouse gas emissions reductions.  Simply put, these achievements are not possible by individual organizations.  Especially in the Northeast when many individual states make up our region, partnerships are vital to obtaining the savings through energy efficiency that are possible.  The Retail Products Initiative is proof that our whole work in energy efficiency is greater than the sum of its parts for the businesses and communities of the Northeast.