By Samantha Bresler | Wed, March 6, 13
  The Northeast Retail Products Initiative, facilitated by NEEP, in conjunction with its sponsoring utility and energy efficiency program administrators, has been awarded the coveted 2013 ENERGY STAR Award for Sustained Excellence –ENERGY STAR's highest honor.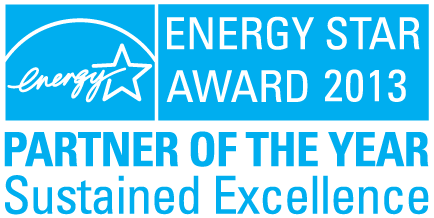 The participants being honored are:
Award winners are selected from about 20,000 organizations that participate in the ENERGY STAR program and despite tough competition, the outstanding work accomplished by the Initiative has propelled us to earn ENERGY STAR's highest honor.  We are thrilled that this year marks the seventh consecutive Sustained Excellence Award received by the Initiative.  We are honored that NEEP's commitment to collaboration and strong partnerships continues to gain the acknowledgement of the Environmental Protection Agency. Through various activities, including retailer and manufacturer cooperative promotions, customer incentives, retailer training and customer marketing and education, the Initiative achieved 4.4 million MWh of energy savings and 3.3 million Tons of CO
2
emissions savings.  The Initiative was able to reduce energy consumption and costs by working collectively more so than through individual state or service territory program efforts alone.
The Initiative's advertising and marketing strategies included radio, television, phone applications, web, print, and social media to engage the public. Sponsors held numerous educational community and retailer events that offered customers reduced pricing on ENERGY STAR certified products. Sponsors continue to improve the availability of ENERGY STAR certified consumer electronics, appliances, and lighting by broadening outreach to under-served communities, leveraging retail and manufacturing partnerships, and increasing availability of ENERGY STAR certified products in stores and catalog sales.
NEEP and Sponsoring energy efficiency program administrators from New England, New York, and Washington D.C. will be recognized at the ENERGY STAR Awards Ceremony in Washington, D.C. on March 26, 2013.  Congratulations to all of the organizations involved in receiving this prestigious award.  Let's continue to keep the Northeast a leader in energy efficiency!