By neepenergy | Wed, October 5, 11

This summer, while temperatures were heating up across the Northeast, one residential community in lower Manhattan set out to reduce their window air conditioner (A/C) energy consumption while still staying cool.
ThinkEco, Inc
, a NYC-based start-up focused on plug-load energy-efficiency solutions and
NEEP Partner
, partnered with Con Edison to launch the coolNYC™ study, an innovative demand-response program for window A/C units. Window A/C units are a large portion of summer demand on the electric grid that was previously difficult to tackle. There are an estimated six million window A/C units spread out over New York's five boroughs and Westchester County, which translates into about 2500 MW of power. With a problem so disparate, traditional models for engaging end-users in demand response programs were not the right fit. Through the coolNYC study, ThinkEco enabled a novel approach to tackle residential demand response – one that engages residential consumers by providing every day convenience through enhanced window A/C controllers, and overlaying an incentivized demand response program with real-time tracking capabilities.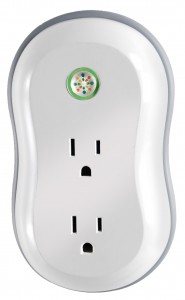 By using
ThinkEco's modlet
(short for modern outlet) and thermostat remote, participants found that they could not only track how much energy each of their window A/Cs consumed, but also remotely control whether they were on or off. Now, instead of coming home to a sticky apartment, participants could set their A/Cs to automatically turn on and cool down their home before returning from work.  Or check the temperature in his or her apartment mid-day through any web browser, to make sure that the apartment was comfortable for the family pet while no one was home. Study participants found participating in demand responses events, easy and enjoyed having remote access to their window A/Cs. According to one user, "It was really easy to participate." While another liked, "the idea that if I left home having forgotten to turn off the air conditioner, I could do it remotely." In addition to these convenience-enhancing features, the system can be used by utilities to send demand response signals to participating A/Cs when peak loads are at their highest, reducing strain on the grid. For example on July 22, 2011 when temperatures were over 100° in NYC, ThinkEco implemented a demand response event that resulted in a 33% reduction in energy consumption by window A/C units. If these results were multiplied throughout the entire Con Edison service territory, up to 540 MW could be temporarily reduced –that is the equivalent of shedding one medium size power plant worth of load at peak. The coolNYC study successfully tackled window A/C reduction in two ways: by providing consumers with the convenience of scheduling and remote access, and through utility driven demand response events. Through these two pathways, users gained more information and control over their A/C units without sacrificing comfort. Most users indicated they would like to participate in more demand response events and didn't notice any change in comfort through participating – a win-win for the grid and electricity consumers!
Annette Bellafiore is the Senior Manager of Communications and Marketing at ThinkEco, Inc., a NYC-based start up focused on energy efficiency solutions.