By neepenergy | Tue, April 24, 12
Imagine if your school saved thousands of dollars on utility costs by cutting down on energy, harvested vegetables from its "lasagna garden" for school lunch, or fueled its buses with discarded cooking oils from local restaurants. Schools across the US are doing this and more – and have been honored for the first time by the Department of Education's
Green Ribbon School Awards
program for their innovative "green" approach to education.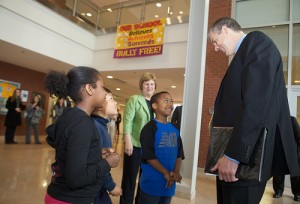 On a morning visit to a DC school this Monday, Secretary of Education Arne Duncan announced the first ever winners of the
Green Ribbon School Awards
. Schools received Green Ribbons for implementing a strong, holistic approach to being "green" – these schools save energy, foster healthy school environments,
and
have strong environmental education programs.   Nineteen of the 78 winning schools came from the Northeast and Mid-Atlantic. Amongst the winners were two schools built to
Collaborative for High Performance Schools
(CHPS) standards –Nathan Bishop Middle School in Rhode Island and Hampton Bays Middle School in New York.  CHPS provides
criteria
for designing and building new high performance schools as well as tools for improving existing schools, such as the
Operations Report Card
and the
Northeast-CHPS Operations and Maintenance Guide
. Identifying these exemplar schools across the region sets a perfect stage for regional collaboration.  Sharing these success stories across communities and state lines will help put hundreds of more schools on the Green Ribbon track.  The coming months will be an important time to learn from these schools and gear up for next year's competition.  States such as
Pennsylvania
are looking for ways to foster school-to-school education to do just this.  Pennsylvania had the highest number of Green Ribbon applicants and received four Green Ribbon awards. Energy savings and lasagna gardens for all!
Quick tip from the Green Ribbon School files:
Schools can save energy, reduce waste, and promote health by incorporating special "days" into the week, such as:
"Lights out" lunches
Trash free Tuesday
Walk to school Wednesday
Green Ribbon School Snapshots:
Nathan Bishop Middle School, Providence, RI
1920s Georgian Revival style building, was on the top of Providence Preservation Society's "Most Endangered Properties" list; renovated to NE-CHPS standards in 2009
100% classrooms have access to views, day lighting strategies, and operable windows
Designed to reduce energy use by  40% energy, and water use by 65%
Has a 20,000 gallon rainwater collection system for toilet flushing
Hampton Bays Middle Schools, Hampton Bays, NY
 The first NY-CHPS Verified school building, completed in 2008
Built to perform 27% greater than energy code
High Performance lighting systems to save the school $100,000/year
Received a $300,000 rebate through Long Island Power Authority (LIPA) to offset the incremental first cost of lighting system