By Carolyn Goldthwaite | Tue, May 20, 14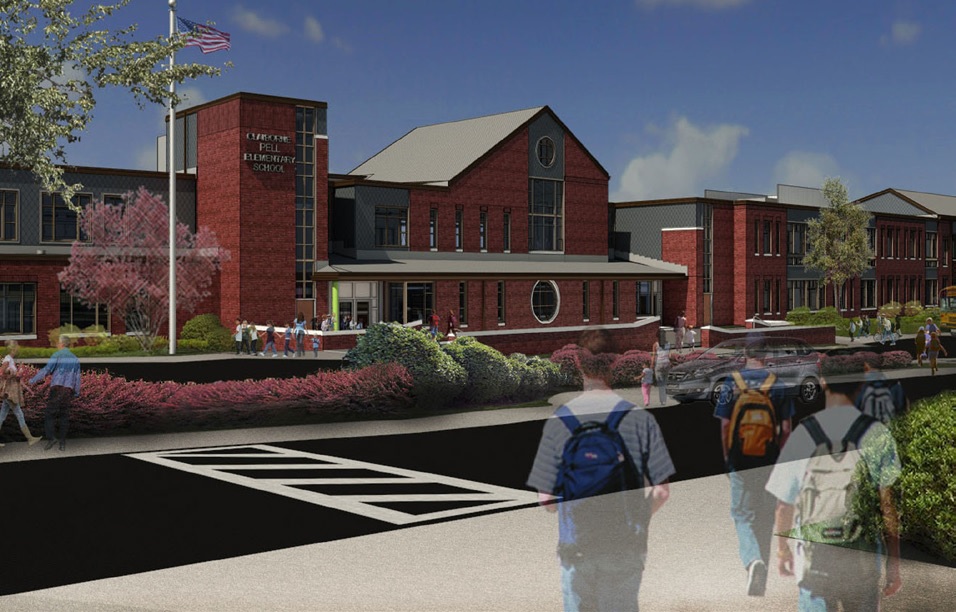 Claiborne Pell Elementary School, Newport RI
"The best way to predict the future is to create it." Along with being a trite yearbook quote, this phrase also describes the impetus behind NEEP's workshop on the path to zero net energy buildings — buildings that generate as much energy as they consume annually. While we currently have the technology and knowledge to design and build these hyper-efficient buildings, we envision a future in which zero net energy construction is the norm instead of a case study.
As part of the 9th Annual Northeast Energy Efficiency Summit, NEEP's Buildings Team will hold a workshop entitled Daybreak on Zero Net Energy Buildings: Illuminating Our Future with Comprehensive Strategies for the Built Environment. Over the course of the day, we will assess the opportunities and challenges facing the Northeast and Mid-Atlantic region (and beyond) and draw cross-cutting connections between short and long-term strategies for realizing a zero net energy future. Policymakers, practitioners, utility program managers and real estate professionals will lead discussions exploring the public policies, technologies and innovations, and stakeholder partnerships necessary for realizing our zero net energy building future.
The workshop will consist of three panels focusing on how advances in building resiliency, market regulation and valuation, and financing mechanisms are lighting the path toward zero net energy. The workshop will be followed by tours of two zero net energy ready schools and serves as a prelude to our annual Summit the next day. We invite you to join us for this important dialog and help to "be the change you wish to see in the world." Register here!
Panel Topics & Speakers 
Building Resiliency
Today's energy and climate realities require us to rethink how we build, produce power and utilize water. The net zero buildings of the near future will be dynamic in their function, with the capability to sustain vital operations in face of unpredictability.
 Speakers:
Mike Davis - Bergmeyer Associates Inc.
Fred Gordon - Passive House New England, Second Street Associates Inc.
Moderator: Ralph DiNola - New Buildings Institute
 Codes, Rating, and ZNE:
Regulations that Drive Market Valuation of Energy Efficiency
Energy codes and energy rating and disclosure are two of today's most effective building energy policy levers that, if combined, could provide an even greater lift to future building energy efficiency. With cost-effective gains from prescriptive codes diminishing as baselines rise, outcome-based codes are the logical next direction for maintaining our momentum towards zero net energy buildings.
Speakers:
Puja Vohra - National Grid
Cody Taylor - U.S. Department of Energy
Craig Foley - RE/MAX
Moderator: Kevin Rose – NEEP
The Role of Finance in the Drive toward Zero Net Buildings
We know that the business case for net zero energy buildings is strong when considered on a lifecycle-cost basis. Yet lack of capital is commonly cited as an obstacle in the pathway toward energy-saving retrofits and nets zero new construction. Recently, innovative mechanisms like on-bill financing and property assessed clean energy (PACE) programs have begun serving as a conduit for energy investment.
 Speakers:
Richard Donnelly - Vermont Energy Investment Corporation
Will McAlpin – Clean Energy Financing and Investment Authority (CEFIA)
Teresa Lopez - Green Energy Money
Moderator: Brian Buckley - NEEP
High Performance School Tour
June 2, 2014 - 3:30 - 5:30
East Bay Met and Pell Elementary School, Newport RI
Since 2007, Rhode Island has been a leader in the green schools movement, by ensuring that educational facilities are built and maintained to be energy-efficient and healthy buildings. Attendees will visit the East Bay Met School and Pell Elementary School, both of which were built to the Northeast Collaborative for High Performance Schools (NE-CHPS) criteria. There is no additional cost for this tour, and transportation will be provided from the Newport Hyatt Regency.