By Fritzi Pieper | Thu, April 18, 13
NEEP's DesignLights Consortium® (DLC) project has announced the opening of registration for the
2013 DLC Stakeholder Meeting which will be held on July 22-25 in Chicago
! Anticipation for this conference has been high since the inaugural DLC Stakeholder Meeting was held in Atlanta, GA last year. This year, the DLC team has been working hard to make the experience as, if not more, beneficial and interesting to solid state lighting (SSL) players. "Forward-looking" and "cutting edge" have been a theme throughout this year's planning process for the event and the team is confident that attendees will not be disappointed.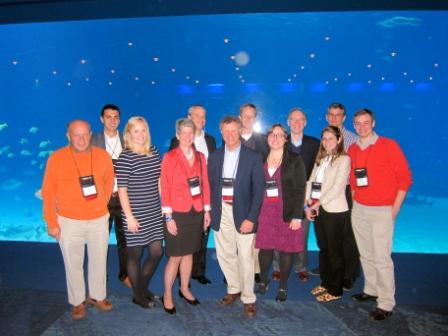 The DLC team at last year's stakeholder meeting in Atlanta.
The event - featuring one half day of introductory workshops and CEU courses, two full meeting day of panel discussions, break-out sessions, and structured networking, and one day of DLC member only meetings – has been designed to allow for open dialog between DLC members and SSL Stakeholders. Agenda topics including specification and category development, outdoor lighting, safety, ambient lighting design approaches, and SSL market development have been chosen to further discussion about common issues within the SSL industry and to identify where the SSL technology might be headed. The DLC is especially looking forward to its members attending this year's Stakeholder Meeting in high numbers. DLC members are regional, state, utility, and energy efficiency programs throughout the U.S. and Canada and are an integral part to the program. The DLC Stakeholder Meeting will thus be the perfect venue to share and gather information and experiences among stakeholders from all sectors of the SSL industry. To register for the 2013 DLC Stakeholder Meeting, click
here
.