By Jennifer Skerker | Thu, May 7, 15
UPDATE: The Maryland Public Service Commission approved the merger by a 3-2 vote on May 15, 2015, as did the Delaware Public Service Commission on May 19, 2015. Initially denying the merger on August 25, 2015, the District of Columbia Public Service Commission gave final approval to the merger on March 23, 2016.
From 2002 to 2012, mergers amongst electric utility companies in the United States consolidated the industry from 69 to 51 companies. At this rate, by 2020, the U.S. will have fewer than 40 electric utility companies. Most recently, heavy debate has ensued in the Mid-Atlantic region over the pending merger between Exelon Corporations and Pepco Holdings Inc. This merger (if approved) will create the largest utility company in the U.S., with about 10 million customers and a base income of about $26 billion.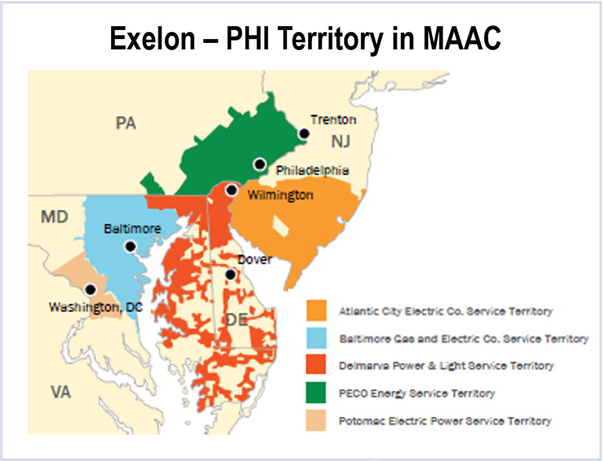 Who does this merger involve and whom does it affect?
This merger will affect electric and gas utilities in Delaware, Maryland, New Jersey, and Washington D.C. In order for the merger to close, utilities commissions in the above four jurisdictions and the Federal Energy Regulatory Commission (FERC) must approve the merger.
Since the two companies announced the merger on April 30, 2014, the New Jersey Board of Public Utilities and the FERC have approved the merger. In mid-March, Montgomery and Prince George's counties in Maryland approved a settlement offered by Exelon and Pepco Holdings. Now, the Maryland Public Service Commission will consider whether to approve the settlement, which cover the majority of affected customers within the state. The commissions in Delaware and Washington D.C. have not yet approved the merger.
Why has the utility industry seen such a great increase in the number of mergers in the past decade?
Since the early 2000s, two major contributors have led to the recent increase in mergers.
(1) As part of the federal government's Energy Policy Act of 2005, Congress repealed the Public Utility Holding Company Act of 1935. Repealing this act has enabled non-contiguous utility holding companies to consolidate, and has enabled companies to diversify beyond strictly utility service endeavors.
(2) Although energy usage has been trending upward for the past century, energy efficiency and distributed energy generation have resulted in slowed growth for electric utility companies in recent years. As a result, many mergers have come about as a means to create greater economic efficiencies for utility companies.
Where do energy efficiency and consumer benefits fit in?
In these mergers, utility companies often provide concessions for consumers in order to gain the approval of state utility commissions. These concessions or benefits help demonstrate that a merger is in the interest of the public, but they also help alleviate concerns that a larger company will reduce staff or exercise their market power to increase rates. Concessions often include bill credits for consumers, rate freezes, guarantees for continued employment, funds for energy efficiency programs (many times with a portion of those funds specifically for low-income customers), and renewable energy investments.
How has energy efficiency fit into past mergers?
Over the past three years, there have been a few major utility mergers and many of the concessions given have involved energy efficiency. For example, in February 2012, Exelon merged with Constellation Energy Group. The Maryland Public Service Commission only approved this merger after 40 conditions were put into place. One such condition was that Exelon had to invest $113.5 million into funds to expand energy efficiency and provide assistance to low-income customers.
In June 2012, Central Vermont Public Service Corporation (CVPS) and Green Mountain Power merged in Vermont. Benefits for ratepayers included $144 million used towards savings and efficiencies in the first 10n years, as well as $21 million to create $46 million in benefits through investment in energy efficiency. One major issue in negotiating the merger was whether the $21 million should be directly refunded to customers, or instead invested in energy efficiency. Understanding that investments in energy efficiency would provide greater benefits to ratepayers than rebates, the Vermont Public Service Board's final order allotted all $21 million to energy efficiency on the condition that every dollar invested in efficiency shall provide at least two dollars in ratepayer benefits.
What energy efficiency benefits does the Exelon and Pepco merger offer?
Since each state has separate approval authority over the merger, the energy efficiency benefits vary by state. In New Jersey, the settlement agreement includes $15 million in energy-efficiency savings for customers, and in Maryland, the settlement agreement with the counties includes $57.6 million to be invested in energy efficiency programs in the two counties and through the public service commission. Commissions in Delaware and Washington D.C. have yet to approve the merger, but proposed concessions for Delaware include $2 million for energy efficiency programs for low-income customers. As of yet, the concessions in Washington D.C. do not directly mention funds to be used specifically for energy efficiency.
What potential does energy efficiency have in utility mergers?
In regards to the pending Exelon and Pepco merger, Commissions, staff, and consumer advocates should consider all factors, but should strongly encourage settlement proposals that allot funding for energy efficiency. Energy efficiency is currently the lowest-cost energy resource compared to both non-renewable and renewable resources (see Lazard chart).

Additionally, although the exact rates vary by state and program, energy efficiency provides more savings benefits than the costs invested. The savings benefits range from New Jersey, where every ratepayer dollar invested in energy efficiency resulted in $1.30 to $1.40 of benefits, all the way to Washington D.C., where $18 million invested in 2014 will result in over $100 million in lifetime savings (this is $5.56 in benefits for every ratepayer dollar put in!). The chart below details the benefits of efficiency investments within the affected states.

Commissions in Delaware and the District of Columbia are faced with a unique opportunity to encourage merger discussion that provide ratepayer benefits in the form of increased funding for energy efficiency. This is of particular importance in Delaware, which last summer enacted landmark legislation to enable the state's first-ever ratepayer funded efficiency programs. These programs would benefit greatly from funding that allows them to ramp-up immediately, and reach for goals that are on par with others in the region. A recent study published by the Delaware Department of Natural Resources and Environmental Control has identified the potential for efficiency investments to provide over $2 billion in net lifetime economic benefits—if programs ramp up aggressively enough to reach their full potential.
In summary, using mergers as a means for encouraging investment in energy efficiency is an economically beneficial option, especially compared to direct refunds, which do much less in the long-term for customers. Mergers provide a unique opportunity to gain significant funds for investing in energy efficiency and we urge state commissions, consumer advocates, and utilities alike to recognize the ratepayer benefits than can be drawn from such an investment.

[1] Delaware Department of Natural Resources and Environmental Conservation.  Study of Potential for Energy Savings in Delaware. (September 2014) Page 7.
[2] Public Service Commission of Maryland.  The EmPOWER Maryland Energy Efficiency Act STANDARD REPORT OF 2014. (March 2014) Page 23.
[3] DC Sustainable Energy Utility.  "District's Investment in Energy Efficiency Paying Big Dividends" (November 2014) 
[4] New Jersey Office of Clean Energy.  Evaluation of New Jersey's Clean Energy Programs.  (September 2012)  Page 3.