By neepenergy | Thu, October 10, 13
NEEP guest-blogger, Jim Merriam, Director of Efficiency Vermont, introduces five white papers by Efficiency Vermont staff and shares his perspective on strategies for the future of energy efficiency in Vermont. Efficiency Vermont provides valuable support to NEEP and to the entire Northeast energy efficiency network.

At Efficiency Vermont, we often feel stymied by the fact that energy efficiency is essentially invisible. We are well aware that the tools of our trade - insulation, caulking guns, and light ballasts - are not exactly photogenic. Over the last decade, though, there is one image that has become the de facto symbol of energy efficiency: the curly cued compact fluorescent light bulb. Symbols have a lot of power, and the iconic image of the CFL has been both a blessing and a curse for energy efficiency. On the one hand, it conveys our message with simplicity and purpose: It's very easy to change a light bulb. But it can also give the misleading impression that once all those light bulbs are changed there is nothing more to be done. Every day at Efficiency Vermont we strive to stay on top of developments in the energy sector, and we are always learning more about 
technologies, techniques, and long term approaches
 that will continue to keep Vermont ahead of the curve. The white papers I've linked to below represent the future of energy efficiency as we see it: digging deeper, pushing farther, and reaching more homes and businesses than ever before.
The Future of Efficiency
Both homeowners and businesses typically consider energy efficiency in the same way they would any other investment in their property: An improvement whose long term value must be weighed against upfront costs. But in his time as an Efficiency Vermont Account Manager, Greg Baker has discovered that for large businesses – who comprise more than one quarter of Vermont's overall electricity consumption - 
there are big energy savings to be gained from changes in process, maintenance, and personnel policies that cost almost nothing at all.
How do we know these savings are possible? We see their impact every day on our customers through analysis of their energy consumption patterns and changes in their utility bills. And, as Ethan Goldman explains in his white paper, we see 
the promise of this energy data to have a transformative impact far beyond our customers
 - by taking a commodity that was once invisible and proving it has tangible value to the marketplace, and our society as a whole. It also takes acknowledging that market transformation isn't always about changing the world. It can be as simple as
changing the perspective of a single customer by giving them reasons to be as excited about saving energy as we are
. According to Nick Lange, it may be simpler to do this than you think.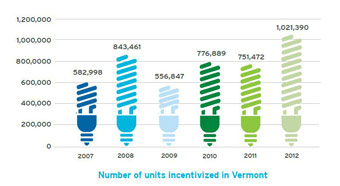 Sometimes finding ways to do more while using less energy actually DOES mean changing out the lights. In his white paper, Dan Mellinger examines the rapid technological advancements over the last five years that are 
putting advanced lighting products within reach of businesses that could never consider them before
. And yes, in the future of energy efficiency there is even a place for the CFL: Lara Bonn explains why the familiar curly bulbs are 
affordable, accessible, reliable – and still saving after all these years.
As I talk with my colleagues and Efficiency Vermont's customers throughout the state, one thing is very clear:  After thirteen years, we have only just scratched the surface of Vermont's energy efficiency potential. To my mind, the future holds tremendous promise – and I hope you'll stay with us on the journey. What do you think of the strategies we are pursuing at Efficiency Vermont? What role will you play in helping Vermont meet its ambitious energy goals?