By John Otterbein | Wed, March 6, 13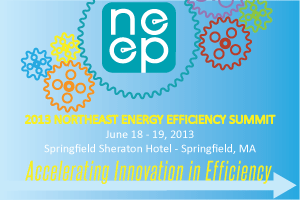 The Northeast Energy Efficiency Summit is rapidly approaching and all of us here at NEEP could not be more excited! The Northeast Energy Efficiency Summit is NEEP's signature event and gives policy makers, program administrators, members of the business community, and other stakeholders to efficiency an opportunity to come together to discuss challenges and successes facing the full deployment of energy efficiency across the Northeast region. The Summit is set for the June 18-19
th
at the Sheraton Hotel in Springfield, MA. These two days will be packed with interactive educational opportunities, profiles of leaders in energy efficiency, efficiency workshops, and will act as a gathering spot for energy efficiency professionals from around the region.
Here is a glance into prior NEEP Northeast Energy Efficiency Summits.
This year's Summit focuses on
Innovation in Energy Efficiency
which refers to renewing and refreshing ways in which we accelerate energy efficiency from the industry's current positioning in 2013. Innovative solutions require us to take a few steps back to compare energy efficiency to the larger landscape encompassing it. Emerging technological advancements and market interests play critical roles in how we think about energy efficiency innovation. Exploring within the realm of innovation also prompts questions such as: In what ways has this industry progressed, succeeded, and grown? Can we see where we are headed in years to come? How, as a collective group of passionate, forward-thinking professionals can we overcome and overwhelm the challenges that stand between us and future visions for this immense industry? How can we become elastic enough to encompass fast-pace emerging technology into our efficiency plans? NEEP strives to facilitate and build upon conversation growing from the roots of these questions. The Summit is where NEEP garners knowledge from all corners of the energy efficiency industry, encouraging rich collaboration. The Summit's unique combination of workshops, profiling, networking, and educating is specifically designed to enhance innovation in the way we view efficiency. Investors in the energy efficiency movement know the potential benefits for our economy and environment, but what about everyone else? The Summit gives efficiency veterans as well as those new to the industry a sense of what is happening in the industry, that efficiency is important to consider in energy investments. This keystone event embodies what NEEP stands for and carves out our specific roles as advocates, collaborators, and educators.
Any questions about the Summit can be submitted to:
Or
 Feel free to leave your questions about the Summit as a comment below.