By Dave Hewitt | Mon, November 25, 19
In October, the Bloomberg Philanthropies released the American Cities Climate Challenge Climate Action Playbook, a strategic guide to accelerate and deepen climate action in cities. The Playbook highlights 30 important strategies that are currently being implemented in U.S. cities through the Bloomberg Philanthropies American Cities Climate Challenge that other cities can follow.
American Cities Climate Challenge is a $70 million project funded by Bloomberg Philanthropies and its partners that supports efforts in 25 large cities to address the climate crisis and build cleaner, safer, and healthier communities. The project includes funding for organizations such as Rocky Mountain Institute, New Buildings Institute, and Building Electrification Initiative to provide technical and policy support for strategy design and implementation.
The Playbook actions are targeted to reduce emissions in buildings and transportation, which account for about 80 percent of carbon emissions in cities. These actions cover efficiency, renewables, and electrification. Some are characterized as "foundational", some as "ambitious" and the most challenging are "moon shots". They are generally described below: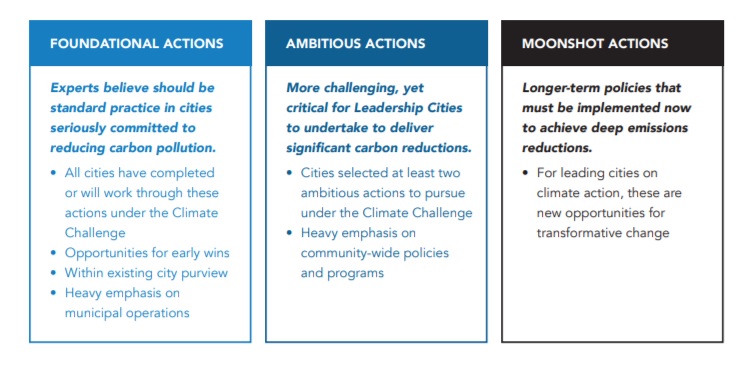 The foundational actions and many of the ambitious actions for buildings are a compendium of current best practice that indeed all cities need to incorporate. They are important and useful (e.g. building benchmarking, code strategies including EV vehicle charging in codes, and municipal building treatment) but by themselves are not enough to create the level of change needed to meet climate goals. Actions are defined reasonably broadly, and there are typically multiple strategies and multiple levels that could be accomplished within each action.
A Few Details
It's great to see these actions as a recommended package, but to really advance building decarbonization, a couple of the ambitious actions and especially the moon shots are of more interest. I will define moon shot the way JFK did – they should be accomplished within 10 years.
In the plan, the two moon shot actions for buildings are "Promote Building Decarbonization through Incentives and Demonstration Projects" and "Plan for Building Decarbonization through Local Codes". Yes to both of those! Yes, we need to require decarbonization in new construction and rehabilitation. Yes, we need incentive programs for decarbonization along with demonstrations and other information to get consumers educated and involved. Maybe get there in five years – it's certainly possible.
Two of the ambitious actions caught my attention because they are "bigger than a building". The first of these was "Implement Community Solar Projects at Scale". Renewables will be less expensive and more accessible with larger scale projects. It's a great way for cities to work with their communities and get value out of underutilized land or create shade in parking lots. The financing related action also included the word "infrastructure" in its title. There are lots of way for cities to use their multiple financing and redevelopment tools to create larger scale projects that impact many buildings. Elements of heat pumps could be infrastructure and serve multiple buildings. Maybe put a ground loop under that community solar array.
One action not called out directly in the actions list, but listed in the details for some, is for cities to be advocates especially in state regulatory proceedings. To be a leader you need followers. Cities have grabbed the reins of leadership, and using their position, especially when they have increased credibility from taking direct action themselves, is a necessary strategy to get other governmental agencies to also take action. These cities now have an Action Playbook; let's get others on board as well.
This blog is part of Building Decarb Central, a series of blogs and other resources aimed at providing a constant flow of information on building decarbonization. Be sure to check out our web portal for more stories, resources, and information.