By Josh Craft | Mon, February 17, 14
Here's our brief rundown on key developments in energy efficiency policy from around the Northeast and Mid-Atlantic states NEEP is keeping tabs on.
Data Moment: Electricity Use Decoupling from Economic Growth, BP Finds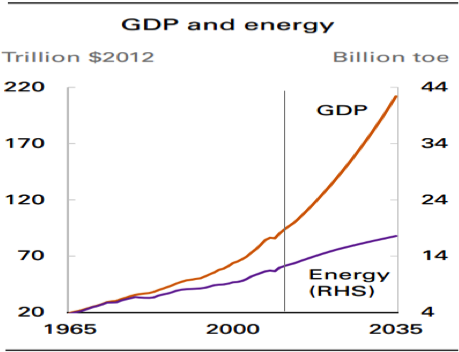 Source: BP, Annual Energy Outlook for 2035, p. 16
Last month,
Brad Plumer of the Washington Post
reported that BP found in its
Annual Energy Outlook for 2035
that energy consumption is gradually decoupling from economic growth. The graph below is yet more evidence that we are making significantly progress, through policy and through markets, to become more energy efficient.
New England Governors' Statement on Energy Infrastructure
The New England Governors
released a
statement
in December calling for the states to work together on a regional energy infrastructure investment initiative that "diversifies our energy supply portfolio while ensuring that the benefits and costs of transmission and pipeline investments are shared appropriately among the New England states." While the governor's statement was widely seen as expressing their intent to expand gas pipeline capacity and create new electric transmission to bring hydropower from Canada into the region (for which the New England States Committee on Electricity (NESCOE) has
petitioned
ISO-New England's assistance), they also re-iterated their support for energy efficiency as a key resource to be included in load forecasting and transmission planning. The recent electricity price spikes in our region demonstrate the importance of our natural gas energy efficiency programs to ensuring reasonably-priced electricity.
ISO-New England & Energy Efficiency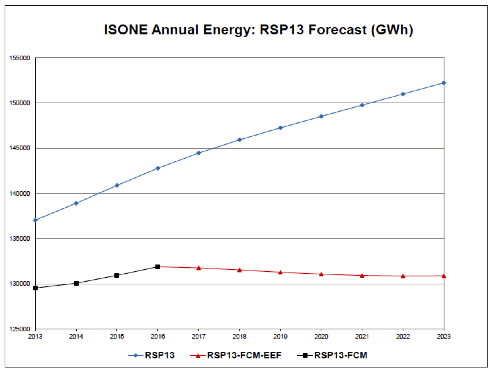 Source: ISO-New England, 2013 Regional System Plan
Oil Heat Energy Efficiency
The U.S. Congress recently passed the Farm Bill, and along with it, it re-authorized the Oilheat Efficiency, Renewable Fuel and Jobs Training Act, informally known as the
National Oilheat Research Alliance
(NORA). NORA allows oilheat retailers to pay a small assessment on heating oil sales in twenty-three states to support programs that benefit oilheat customers. Fifteen (15) percent of these funds will go towards energy efficiency measures and oilheat system replacements, which will allow some oilheat dealers to provide energy efficiency services to their customers. While the impact of such federal action will be impactful, NEEP continues to work with our allies in supporting state oilheat efficiency legislation, such as
H. 2741
in Massachusetts that would allow for much greater investments in energy efficiency resources for homes and businesses that rely on oilheat.
State Energy Efficiency Proceedings
State Legislatures & Energy Efficiency Bills
State legislatures around the region have begun their 2014 legislative sessions. While most will have short sessions because of upcoming mid-term elections, there are still important energy efficiency measures on the table. We are paying particularly close attention to Delaware, where a major energy efficiency title,
HB 179
, is under consideration, as well as New Hampshire, which continues to discuss how to expand its investments in
energy efficiency
. And as it's early in the year, much more is surely on its way. For a list of energy efficiency legislation NEEP is tracking, click
here
.