By Sue Coakley | Wed, October 21, 15
Massachusetts, you've done it again! Today, the American Council for an Energy Efficiency Economy (ACEEE) announced that it has selected the Bay State as the most energy efficient in the nation – this marks the fifth year Massachusetts has topped the charts for national energy efficiency policy and practice. Of course, the real winners reaping the rewards are the residents and businesses inhabiting this leading clean energy state who received more than $3 Billion in benefits thanks to the Commonwealth's policy of making energy efficiency the state's top energy priority in 2014.
So how did Massachusetts pull off this impressive five-peat feat? We're glad you asked.
Characterizing Energy Efficiency as a Resource, Not a Cost

Energy efficiency is now widely accepted by economists as the least cost energy resource that a utility can deliver their ratepayers, rather than a cost to be incurred. Massachusetts fully endorses this mentality and, as a result, is saving more energy every year with new energy efficiency investments and programs as the state continues to embrace efficiency as the Commonwealth's "First Fuel." In 2014, a portfolio of efficiency programs implemented by the state's gas and electric utilities through MassSave saved enough electricity to power 171,904 homes for a year and enough natural gas to heat 29,603 homes for a year. These energy efficiency investments also reduced CO2 emissions by more than 1,565,951 short tons — the equivalent of taking 155,481 cars off our roads for a whole year. For every one dollar invested in electric efficiency, the average benefit was $3.21 for homeowners and $4.27 for businesses. The energy efficiency industry also employed 65,000 workers and 4,000 firms in Massachusetts.
No other energy resource or public policy comes even close to providing these cost savings and greenhouse gas emission reductions.
Using Energy Efficiency to Shave Price Spikes
Better yet, energy efficiency is keeping the cost of power down during summer and winter electric system peaks when the regional hourly price of power can spike to more than ten times the typical daily market price of $40/MWh. At the winter peak of 2014, when the New England power system strained to meet power system need, ratepayers saved over $1.5 billion because of embedded energy efficiency that reduced winter peak demand for electricity. This resulted in a lower market clearing price for electricity that benefited everyone.
Energy Efficiency Keeps Load Growth Flat-Lined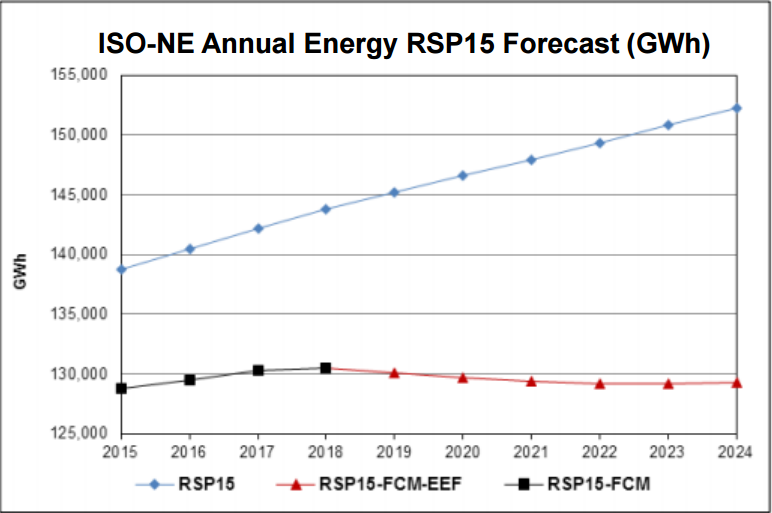 With the success of energy efficiency policies in Massachusetts and other states, ISO-New England, the region's power grid operator, projects no growth in electricity consumption over the next ten years – providing yet more cost and environmental savings. This comes as no surprise. New England electric growth has been flat for the last three years largely due to energy efficiency – even as the economy continues to rebound from the 2008 recession.
Supportive Policies Lay Strong Foundation
That Massachusetts leads the nation in energy efficiency is not by chance. Rather it is committed and inspired state leadership over the last twenty years that has made efficiency the state's top energy priority. Following years of successful efficiency programs, a forward-thinking administration signed the Green Communities Act in 2008. This law requires that electric and natural gas resource needs first be met through all available energy efficiency and demand reduction resources that are cost effective or less expensive than supply. Since its passage, annual energy efficiency investments and savings have more than doubled. And the Massachusetts utilities are proposing to further increase annual savings from energy efficiency even more over the next three years, a proposal recommended by the Massachusetts Energy Efficiency Council (MA EEAC) led by the Department of Energy Resources (DOER).
An Eye towards the Next Generation of Savings
Instead of resting on its laurels, Massachusetts continues to look ahead. Just recently, the state's EERS was raised by a significant margin which lays the groundwork for enhanced energy savings. As the MA EEAC progressively ratchets up the resource standard year after year, the savings continue to accrue, forming the bedrock of the state's sustainable energy initiatives.
And it doesn't stop there.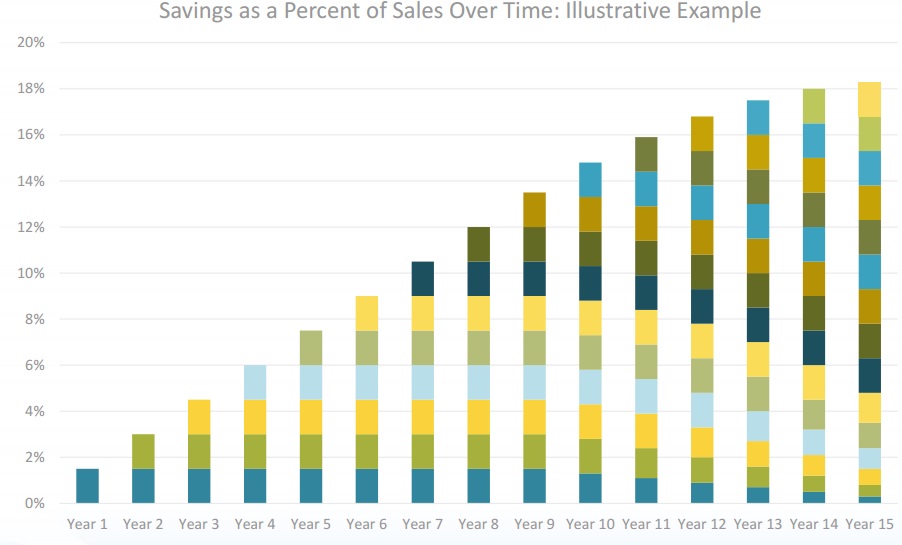 In the wake of Tesla's landmark battery launch, Massachusetts "announced a $10 million storage initiative, issued an RFP for a study of storage's potential in the state, and named energy storage expert Judith Judson as Commissioner of the Department of Energy Resources (DOER), making it clear that the Commonwealth considers storage a foundational part of its grid modernization efforts over the next decade." What's becoming clear is that Massachusetts not only leads the nation in energy efficiency but also in envisioning the future of our sustainable energy system.
So take a day to celebrate, but remember, there's plenty more to be done.