By Josh Craft | Tue, October 14, 14
New York has some of the region's most aggressive energy efficiency programs, and is now in the midst of an ambitious set of initiatives aimed at "Reforming the Energy Vision." As the state tackles complex issues of new utility models and a changing view of state, utility and market roles, NEEP is watching closely to ensure there is a continuing and prominent role for energy efficiency — the least-cost resource.
Under the Energy Efficiency Portfolio Standards (EEPS) established by the New York Public Service Commission in 2008, New York set a goal of reducing both electric and gas use by 15 percent by 2015, tasking NYSERDA and the state's investor owned utilities with meeting the goal. That policy shift has enabled significant advances in energy savings in buildings and in industry and put it consistently among the top five states in the ACEEE State Energy Efficiency Scorecard.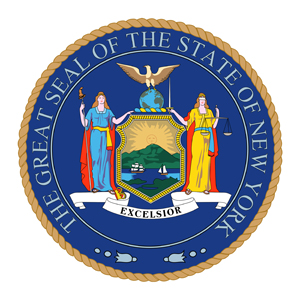 But there have been significant challenges. NYSERDA and the regulated utilities have struggled with overlapping goals and duplicated program offerings. A lack of flexibility to make program and budgetary changes has hampered the ability to implement programs. A 2013 report from the Pace Energy and Climate Center found that the EEPS programs were falling short of meeting the 15 percent energy savings goal. And there is significant political pressure to reduce so-called "surcharges" for system benefits programs from large energy users.
In response, New York officials have launched a set of policy changes aimed at fundamentally reshaping New York's energy landscape. These include the Reforming the Energy Vision (REV) proceeding, the new NYSERDA Clean Energy Fund proposal and also the New York Green Bank. The vision is a sweeping one. Chair of the New York State Public Service Commission (PSC) Audrey Zibelman stated in a press release:
"The existing ratemaking structure falls far short of the pace of technology development that defines many parts of our economy. By fundamentally restructuring the way utilities and energy companies sell electricity, New York can maximize the utilization of resources, and reduce the need for new infrastructure through expanded demand management, energy efficiency, renewable energy, distributed generation, and energy storage programs."
In August of this year, the state Department of Public Service REV Track One staff report laid out six major objectives for the initiatives: (1) Enhanced customer knowledge and tools that will support effective management of their total energy bill; (2) system wide efficiency, (3) fuel and resource diversity, (4) system reliability and resiliency, and (5) reduction of carbon emissions.
In this month's "Going Deeper" article, we review the REV, Clean Energy, and Green Bank proceedings and provide our perspective on how these may impact New York's energy efficiency programs.
Reforming the Energy Revision (REV)
The Reforming the Energy Vision (REV) proceeding, Case 14-M-0101, is the centerpiece of New York's energy policy initiative. The Commission seeks to confront two important challenges to the existing energy distribution system: minimizing future energy infrastructure costs (centralized power plants, transmission and distribution) needed to meet growing peak demand and new renewable resources, while allowing customers to participate in energy markets through distributed energy resources (DERs), such as solar PV systems, energy management systems, and energy efficiency.
To achieve this, REV proposes to change existing investor owned-utilities into "Distribution System Platform Providers" (DSPs). The DSPs would functional similarly to today's utilities, but allow for greater customer and third-party energy services. "Track One" of the REV proceeding, to be finalized by the end of this year, aims to create a vision and responsibilities for the utility DSPs. "Track Two," which will begin in 2015, would create the new tariff and regulatory structure to support the new DSPs. This means cost recovery that incentives the utilities to lower system costs and promotes innovation in energy technology and better customer service.
The August staff report lays out a number of areas of change for the state's energy efficiency programs:
Efficiency Transition Implementation Plans (ETIPs): The initial REV order discussed a future where utilities would integrate efficiency resources into existing operations, but provided little detail on what that would look like. The Track One straw proposal, however, would require the utility DSPs to create Efficiency Transition Implementation Plans or "ETIPs" that would last for five years. The ETIPs would also require the utilities to achieve levels of energy savings required by EEPS and must be filed by March 2015.
Benefit-Cost Framework: The straw proposal calls for a new benefit-cost framework that would allow the Commission to evaluate which DERs investments would be cost effective. This proceeding is likely to change how energy efficiency resource benefits are valued, including changes to how participant and societal benefits are accounted for.
Evaluation Framework: The proposal also calls for changes to how efficiency programs will be evaluated, including the creation of a new energy efficiency database and a new utility-specific Technical Resource Manuals (TRMs).
NYSERDA Clean Energy Fund Proposal and Green Bank
The REV proceeding has largely remained silent on NYSERDA's role in the state's energy efficiency programs. The Clean Energy Fund (CEF) proposal, Case 14-M-0094, developed by the agency, also calls for significant changes to its ratepayer funded clean energy programs. Most notable would be the following: a centralization of its EEPS, NY SUN and Green Bank programs into one umbrella with a single funding source, a significant reduction in funding for NYSERDA's programs over time, and a greater emphasis on finance and markets as a means to deploy energy efficiency and renewable resources. NYSERDA's proposal would cap funding for all programs at $5 billion over 10 years, with investments ramping down from $900 million in 2016 to around $400 million annually in 2020 (see the figure below).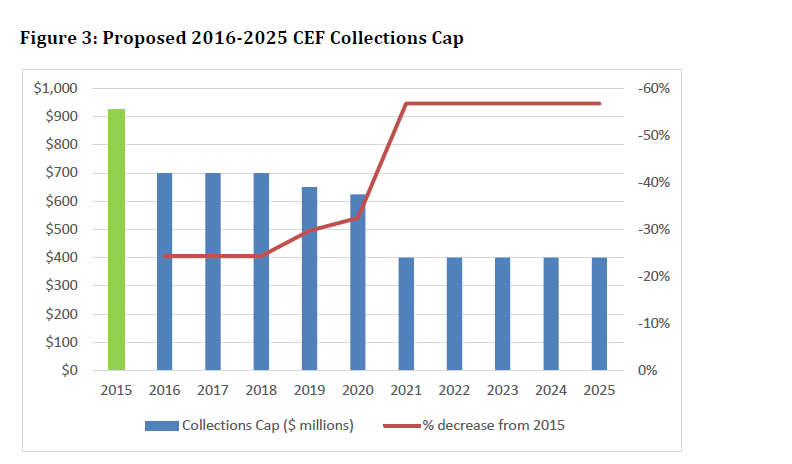 There are notable changes to how NYSERDA will approach energy efficiency programs:
Program Focus: NYSERDA has proposed that the fund would work "synergistically" with the REV "to ensure that REV markets work properly and, critically, to drive large-scale industry transformation 'upstream' of individual utility service territories." These activities would focus on overcoming market barriers in key market segments, including residential single family, residential multifamily, low-income residential, commercial and industrial. This may clarify the roles of NYSERDA and the utilities in administering energy efficiency programs, though that is not explicit in the REV proceeding. These programs would receive about half of the total CEF funds in future years. More detail is to come in a future CEF "Program Implementation Plan."
Fuel Neutrality: NYSERDA has requested that collections for the CEF be "fuel neutral" in order to assist customers who use fuels other than electricity or gas, calling this the "lynch-pin to providing truly customer-centric clean energy programs." NYSERDA would gradually do away with the gas surcharge and fund all programs via the electric surcharge.
EEPS Energy Savings Goals: Under EEPS, NYSERDA was required to achieve certain energy savings goals. The proposal is silent on whether NYSERDA would retain the savings required under EEPS or if they would shift to the utilities, though it does mention that NYSERDA will track reductions in GHG emissions, public and private investment in clean energy, energy and peak demand savings, and the level of renewable generation compared to other resources.
New York Green Bank: The Green Bank is at the center of the Clean Energy Fund, seeking to limit "government-driven grants and subsidies" in favor of loan products that can "recycle capital through successive investments." The plan is to promote a retail lending market for clean energy resources. The bank would receive about $200 million each year until 2018, about 30 percent of all collections, and then receive no new funds after that.
Our View
NEEP applauds the ambition of the Commission and its vision of utilizing DERs, including energy efficiency, to meet the state's economic and environmental goals. The more that energy needs can be reduced and met at the customer level, the less there will be need for costly infrastructure investments. To the extent that the distributed system platform provider (DSP) model aligns customer and utility financial interests toward that goal, New York will be at the leading edge of innovation in creating the transition to an affordable clean energy economy.
However, we have also encouraged the Commission and its staff in our recent comments to ensure that the new energy policy framework continues to move New York towards all cost-effective efficiency. Financing through the Green Bank and new tariff mechanisms under the REV may not help New York take advantage of the significant cost-effective potential for savings that remain, according to the recent NYSERDA potential study, which shows 49.7 million tons of cost-effective CO2 reductions by 2030 through energy efficiency and other strategies (see figure below).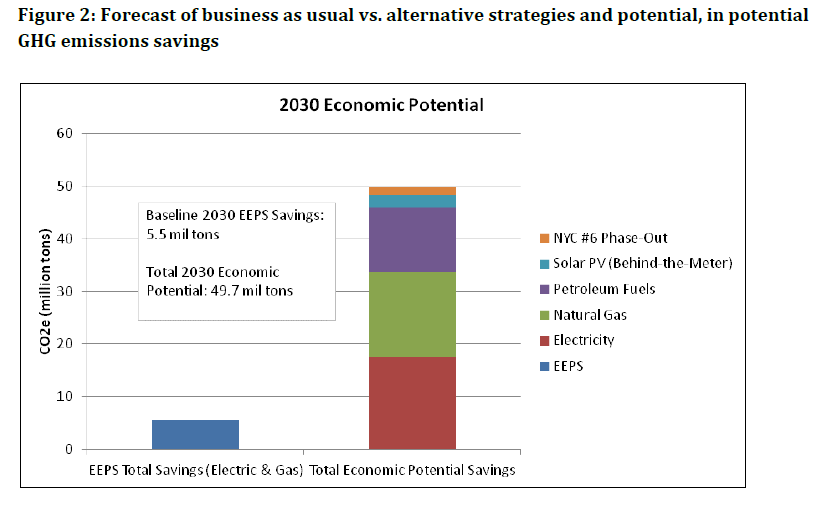 Clear carbon and peak reduction savings goals, along with regulatory oversight by the Commission, are also essential pieces to achieve the vision here. There may also be significant gains simply by completing the reforms outlined by the Commission in its December 2013 EEPS order. That is, fixing the cost-effectiveness framework, clarifying the roles of the utilities and NYSERDA in implementing the energy efficiency programs, and granting NYSERDA a greater role in providing policy guidance and analysis for DPS staff and the Commission on which to make its decisions.
New York has set out a compelling and ambitious vision with these three proceedings. But it can ensure the best value for its customers in our view if it fixes its energy efficiency programs before tackling the bigger energy challenges.