By Darren Port | Fri, December 7, 18
High Hopes for Energy Efficiency In Massachusetts
It was a typical gray and cold Western Mass winter morning, but November 20, 2018 was no ordinary day. Great anticipation filled the streets of Northampton as the first recreational cannabis dispensary opened its doors for sales. A line of thousands of people stood for hours to purchase locally-grown cannabis. My mom texted from Florida at 7:00 a.m., "your mayor is on the news, he's first in line".
Over $2.5 million was spent in the first two days at the first two dispensaries, located in Leicester and Northampton, to offer "adult" cannabis. This news was a national headline. Opening day was long awaited and celebrated by many. For energy efficiency advocates seeing through the haze, however, opening day was one of both concern and potential.
Massachusetts Emissions Reduction Goals
The Massachusetts Global Warming Solutions Act passed in 2008 requires the state to reduce Greenhouse Gas (GHG) emissions between 10 and 50 percent below 1990 GHG emissions levels by 2020 and 80 percent by 2050. Massachusetts must reduce carbon emissions through energy efficiency, retrofitting existing buildings, decarbonization of electric generation, and implementation of renewable power generation to potentially avoid the worse consequences of climate change.
High Times and High Emissions
Unfortunately, the cultivation of indoor grown cannabis is one of the most energy-intensive industrial processes, with the exception of outdoor and greenhouse grown. Growing the crop requires 24/7 lighting, heating, ventilation, humidity control, and air conditioning. One pound of cannabis contributes in the range of 3000 to 5000 pounds of carbon dioxide. That much carbon is equivalent to driving non-stop for 196 hours or taking three to four trips across the United States.

Photo courtesy: SWEEP
According to Lawrence Berkeley National Laboratories, one percent of the nation's electricity is used in the cultivation of marijuana. That's equivalent to 1.7 million homes, 15 million tons of GHG, or the same as what three million average gasoline-fueled cars emit in one year.
Down in the Weeds
According to the MA State Health Department, the first year of medical sales amounted to 20,000 pounds of cannabis sold. The state estimates that recreational pot sales will range from 290,000 to 545,000 pounds per year.
Industry experts estimate that to meet Massachusetts' current demand for medical and recreational marijuana, four million square feet of indoor cultivation space is needed. The state of Oregon estimates that one million feet of grow space requires 657,000,000 kW of electric capacity added to grid. That's the equivalent of adding 60,000 new homes or a new 150 mW power plant.
Buzz Kill
MA power plants in 2018 currently emit nine million metric tons of carbon dioxide and need to drop to 1.8 million metric tons by 2050. With cannabis emissions potentially in excess of one million metric tons of GHG emissions per year, Massachusetts energy and emissions goals will be severely curtailed without serious thought and intervention in the cultivation of cannabis.
In Deep Water
I would be remiss if I didn't mention a less often discussed resource used in the cultivation of cannabis: water. Water consumption is six to 15 gallons a day per plant depending on the plant type. Some estimates say four million gallons per 100,000 sq. ft. is required. Certainly, regulation and conservation is needed to address water and cannabis production. The energy numbers quoted throughout this blog don't account for water use.
New Rules
Massachusetts is among the most energy-efficient states in the country and hopes to continue that trend into the future. As such, the Massachusetts Cannabis Commission created the Massachusetts Cannabis Energy & Environment working group. The Commission currently requires energy efficiency provisions for growing facilities that primarily address lighting power density and building envelope. The working group and the Commission are currently reviewing potential new energy rules that will address the full emissions impact of the cannabis growing industry.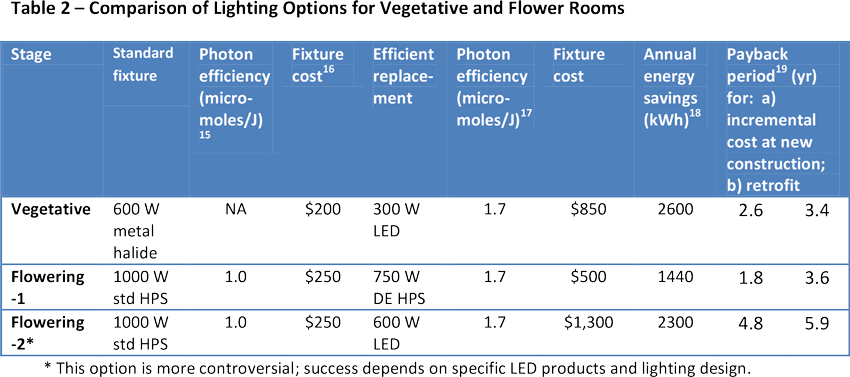 Photo courtesy: SWEEP
Let's Be Blunt
Nothing less than a 100 percent GHG neutral cannabis production industry is acceptable for MA. The solution must come primarily from efficiency, particularly lighting efficiency.
Revenue from cannabis sales should fund indoor agricultural energy and water efficiency studies, lighting, technology and equipment research, mandatory energy disclosure for cultivation facilities, facility design technical assistance, and operator energy management education.
Carbon trading and carbon tax markets should be established for the state and perhaps among all legal marijuana states.
Utilities and public administrators have a role in ensuring that the growing industry doesn't tip the scales towards irrevocable emissions growth. All Massachusetts utilities* should offer incentives for equipment (controls, heat pumps, ductless air conditioning, meters) to benefit the industry and, in turn, all citizens of the state. Aggressive marketing and outreach programs should be designed to reach growers that aren't participating in efficiency programs.
Increased incentives and programs for renewables, heat pumps, and battery storage in the residential and commercial utility sectors can be used to offset cannabis industry power usage and GHG emissions.
On the national level, the International Code Council should consider national codes for energy-intensive indoor agriculture.
Straddling the space between concern and potential, Massachusetts has an opportunity to set a national precedent in the management of energy and water for cannabis cultivation and other indoor agriculture. It is an absolute imperative to do so in order to remain first in the nation for energy efficiency and to further move the state to zero energy and GHG emissions.
* Currently National Grid offers efficiency study and equipment incentives to growers. However, not all eligible grow operations are participating.
Statistical Resources
Mills, Evan, Energy Up in Smoke The Carbon Footprint of Indoor Cannabis Production September 7, 2011. Published by Elsevier: https://sites.google.com/site/millsenergyassociates/topics/energy-efficiency/energy-up-in-smoke
Warren, Gina, Regulating Pot to Save the Polar Bear: Energy and Climate Impacts of the Marijuana Industry (September 24, 2014). 40 Columbia Journal of Environmental Law 385 (2015). Available at SRN: https://ssrn.com/abstract=2501126
Electricity, Carbon Dioxide Emissions, Water & Pesticides: https://olis.leg.state.or.us/liz/2015R1/Downloads/CommitteeMeetingDocument/77824
Going Green While Growing Green – MEEA: http://www.mwalliance.org/sites/default/files/meea-research/cannabis-fact-sheet-9.7.18.pdf?current=/taxonomy/term/11
A Budding Opportunity: Energy Efficiency Best Practices for Cannabis Grow Operations
Southwest Energy Efficiency Project (SWEEP) https://www.swenergy.org