By Natalie Hildt Treat | Fri, November 16, 12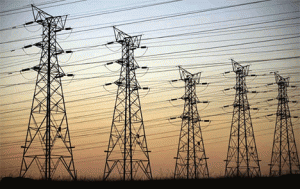 Increasing severe weather events. Increasing plug load. An aging infrastructure. Cyber security concerns. The advance of electric cars. The trend toward more distributed and renewable energy generation. Smart appliances. Smart users. And an increasing focus on energy efficiency in buildings and products.  So what will the power grid of the future look like? What will it mean for customers? And who should pay for these upgrades? The Massachusetts Department of Public Utilities (DPU) recently kicked off a
Grid Modernization Working Group
to examine the policies that will enable the state's electric distribution companies and their customers to harness the new technologies and best practices of our increasingly dynamic and sophisticated electric system.  Admittedly, the electric grid that we live with today  was designed for much simpler times. Cheri Warren, VP of Asset Management for National Grid reminded us that much of the grid we have today was built in the 1960s, when the typical home's electric load consisted of a refrigerator, some incandescent light bulbs, one T.V. set, one radio, and maybe an iron. "The grid was not designed for multidirectional power flow," said Warren ask she ticked off the increase of solar, wind and other renewable sources, and the coming of plug-in electric cars. Over the next six months, a diverse group of stakeholders — including utility companies, state agencies, ISO-New England, consumer and business groups, expert consultants, vendors and manufacturers — will be meeting to address some of the issues and challenges laid forth in the DPU's
Notice of Investigation
 (NOI) 12-76. According to the NOI, "The Department sees grid modernization as an important component of our on-going efforts to promote clean energy resources and encourage electric distribution companies to develop a more efficient and reliable system." I was pleased to represent NEEP at the November 14 kick-off workshop, where about 100 of us gathered to hear from DPU commissioners on their vision for the process, learn about what steps the state's electric utilities have already started taking to upgrade their transmission, communications and metering equipment, and listen leading experts on grid modernization efforts around the U.S. and in other nations. We heard about advanced meters that share real-time data with customers and the utility, new ways to sense power interruptions and deploy repair resources, the value of different rate structures to encourage customers to curtail their load at peak times, what kind of upgrades non-constant renewable generation requires and the role of energy efficiency to help
permanently
reduce demand. After a series of terrific and enlightening
presentations
, we broke out into a dozen small groups to discuss what we see as the top challenges and opportunities with modernizing the state's electric grid. What we found when reconvening is that we share many of the same concerns, and that the things that are challenges can also present the greatest opportunities. Some of the top issues shared by stakeholders and the commissioners themselves:
Increasing reliability and reducing outage time
Maximizing energy efficiency and distributed generation resources
Educating customers, and motivating them to change behavior based on information and new technologies
Aligning the interests of utility companies with the interests of customers and broader public policy goals – which include suppressing wholesale prices and reducing greenhouse gasses
Examining costs and benefits – how much, how fast do we upgrade, and who will bear the costs of initial investments and over time
How to create regulatory certainty, but also a framework that is nimble and adaptive to changing technologies and other advances
In the coming months, the stakeholders will work to examine customer-facing and grid-facing developments. Next June, we will deliver a Roadmap Report to the DPU. The Roadmap will help guide the Commonwealth as key entities work together to build the grid of the future — a grid that is dynamic, smart, and efficient; a grid that will necessitate increased skills and training for service providers and greater awareness and participation by all types of customers.
A look at utility-customer interactions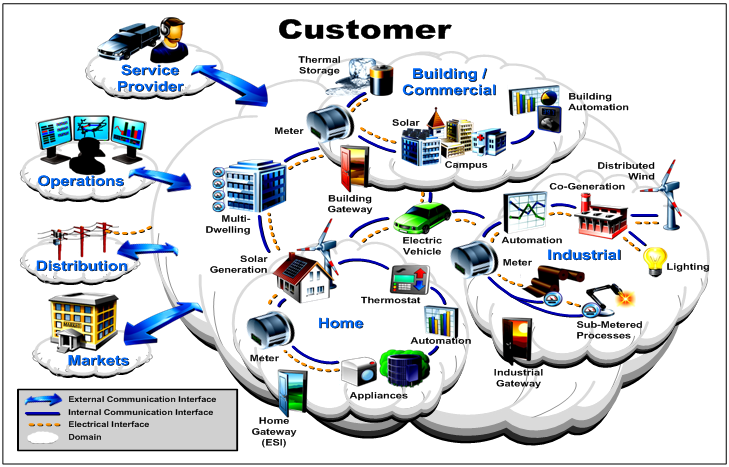 Source: http://www.nist.gov/smartgrid/upload/NIST_Framework_Release_2-0_corr.pdf pg, 213