By Lisa Cascio | Wed, November 6, 13
Northeast Energy Efficiency Partnerships congratulates the Commonwealth of Massachusetts for capturing the top spot in the
American Council for an Energy-Efficient Economy's (ACEEE) 2013 State Efficiency Scorecard
for the third consecutive year. The highly-regarded report measures states on a variety of efforts that recognize energy efficiency as a least-cost resource able to meet energy needs while growing the economy and protecting the environment.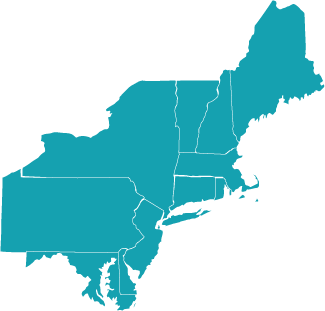 The Northeast Region takes 6 of the top 10 spots in the 2013 ACEEE Energy Efficiency Policy Scorecard!
For the third year in a row, Massachusetts edged out California behind its high-scoring efforts on innovative policies and public benefits programs geared toward helping customers cut energy costs. Additionally, Connecticut and Rhode Island continued their upward climb, thanks in large part to strong legislative and/or gubernatorial commitments to making energy efficiency a priority resource in their states. "We are proud that the Northeast has once again been recognized nationally for its leadership on energy efficiency," noted Jim O'Reilly, Director of Public Policy at NEEP. "Policymakers from this region have created a 'race to the top' culture on energy savings, with the states making stronger commitments to achieving the highest levels of energy savings than anywhere else in the country." Other Northeast states in the top ten include New York (3), Vermont (7), and Maryland (9), all three of which continue to implement some of the nation's leading energy efficiency program portfolios. Connecticut showed significant improvement this year in passing major legislation that laid the foundation for strong energy efficiency programs for the future. Governor Dannel Malloy and legislative leaders have created great momentum with their focus on energy efficiency. Rhode Island's jump in ranking reflects the hard work that the state is doing to create the policy and program framework to achieve deep energy savings for its customers, particularly by expanding its energy efficiency programs and strengthening the state's building energy code. "Investment in energy efficiency will help the Northeast and Mid-Atlantic regions to continue to develop local energy solutions and avoid costly new generation and transmission projects," said Sue Coakley, NEEP's Executive Director.