By Danielle Wilson | Mon, February 17, 14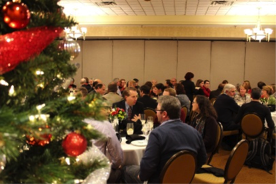 Full house at APM
Over 100 evaluators, regulators, program administrators, and other interested stakeholders from across the NEEP region gathered in cozy Portsmouth, New Hampshire on December 12, 2013 for the 5th
Regional EM&V Forum Annual Public Meeting
(APM). NEEP's Evaluation, Measurement, and Verification (EM&V) Forum team, along with Forum leadership and participants, brought together folks from across the Mid-Atlantic and New England regions to passionately discuss issues and implications of net savings, cost-effectiveness, and the emerging interface between energy efficiency and air quality/greenhouse gas emissions planning.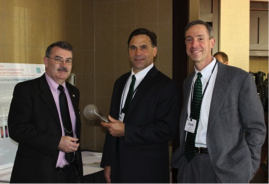 Commissioner Paul Roberti (RI PUC), passes the "torch" of Forum leadership to Commissioner Robert Scott (NH PUC) while Commissioner David Littell (ME PUC) looks on.
Meeting attendees found the event a great chance to network and hear about regional approaches to common EM&V obstacles on various levels. Attendee comments spoke to the value of bringing together diverse stakeholders: "It's great to have regulators at the meeting," and, "good to see the air folks there!" Panel presentations are available on the
NEEP website
. Anyone interested in more information about past and as well as upcoming Annual Public Meetings should contact
Danielle Wilson
.
REED Release: 2012 Program Year Data Now Available For All You Data Buffs
REED
(the Regional Energy Efficiency Database) now features program year 2012 electric and natural gas energy efficiency data for 9 jurisdictions, including Connecticut, Delaware, District of Columbia, Maryland, Massachusetts, New Hampshire, New York, Rhode Island, and Vermont. As insiders know, it takes many months for program year data to be scrubbed and evaluated, hence the lag-time. This spring, NEEP plans to issue a REED Program Year 2012 Annual Report that will highlight energy efficiency trends across the region and expand upon the
2011 REED Annual Report
, issued last fall. Check out the
REED website
as NEEP continues to expand the tool and open discussion on making the most of energy efficiency data through consistent reporting.

  Contact REED Program Manager,
Cecily McChalicher
with questions or comments regarding REED.