By neepenergy | Tue, June 26, 12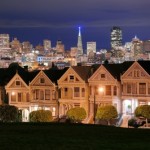 Residential lighting efficiency programs don't come as cheap as they used to. Due to increasing product costs and federal Energy Information and Security Act (EISA) standards that raise minimum efficiency requirements and lower the incremental savings of high efficiency lighting products, lighting programs need bigger budgets to gain smaller but still significant energy savings.  At the same time, programs are increasingly being asked to achieve long-term market transformation simultaneously with short-term aggressive resource acquisition goals. At the June 13
th
NEEP Residential Lighting Workshop in Stamford, CT, Scott Kessler of NYSERDA discussed how this predicament is becoming increasingly challenging. Program administrators are tasked to measure and achieve both near-term reductions in energy use while simultaneously causing an increase in the adoption of high-efficiency products (market transformation). Measuring a single measure's cost-effectiveness on its own, or "in a vacuum", is fairly straight forward and scientific. However, measuring the effect of a large number of these measures as part of a market transformation that occurs over many years is an "art" that often can lead to the decision that certain products and markets no longer require incentives and are already "transformed". Quantifying a program's specific contribution to transforming a market is even more difficult when other programs are occurring simultaneously. Currently, NYSERDA's point-of-sale lighting budget must only be used to support LEDs and specialty CFLs, which require significantly higher per unit incentives, thereby reducing the savings that could potentially be gained by supporting a greater variety of high efficiency lighting in the state since more cost-effective spiral CFLs are now eliminated from portfolios. More money, decreased savings. Panelists throughout the Workshop underscored the importance of tracking market changes to reduce uncertainties involved in measuring and planning for efficiency programs. The number of lighting products available, changing costs, and the speed of technological development make tracking the market essential moving forward.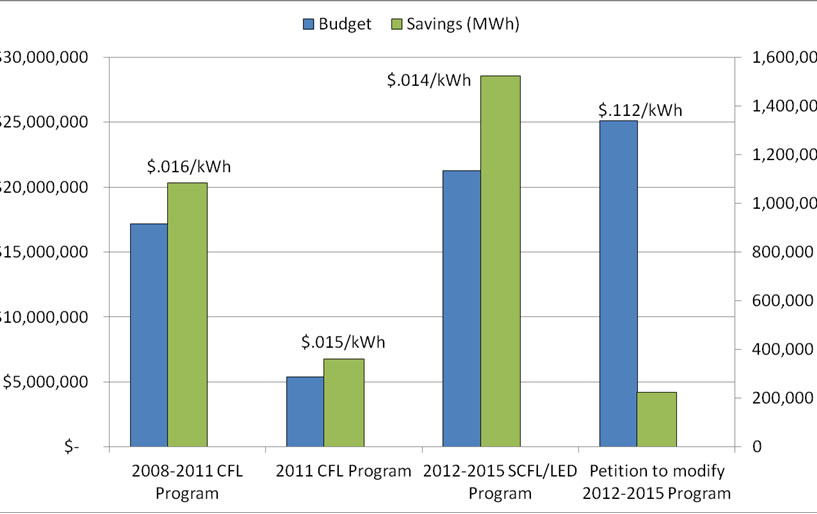 NYSERDA predicts higher budgets and lower savings for residential lighting, requiring a change from past and planned program goals
Providing additional insight at the Workshop, Cheryl Ford of Osram Sylvania presented a "socket saturation" study her company recently conducted. Based on survey data, Sylvania predicts that halogen incandescent bulbs will pick up much of the market that non-EISA-compliant incandescent bulbs leave behind. Halogen incandescent bulbs meet EISA standards but are still less than half as efficient as CFL or LED products, meaning that significant savings through CFL and LED incentives from efficiency programs still remain. Without continued support, many consumers will choose minimally efficient technology. NEEP's
Northeast Residential Lighting Strategy (RLS)
recommends supporting a gradually evolving product portfolio, with substantial savings still gained through spiral and specialty CFLs as LED products ramp up. Ongoing RLS updates will help identify the most C/E portfolios now and in the future, helping to meet state's ever increasing energy reduction targets. Taylor Jantz-Sell of EPA ENERGY STAR, another Workshop panelist, forecasted that LED lamp prices will continue to fall in 2012 and 2013. ENERGY STAR makes current and future product price trends available through an
online database
. Work is ongoing to ensure that all high efficiency lighting meets stringent quality assurance requirements to meet consumers' needs. Workshop participants agreed  that lighting efficiency still remains the most cost-effective energy efficiency program measure. Policy makers, regulators, and program administrators should engage early to ensure that programs receive adequate funding to promote high-efficiency lighting products, allow for innovative program design, and to support effective educational marketing.