By neepenergy | Fri, May 25, 12
Developed by Northeast Energy Efficiency Partnerships and informed by stakeholders from around the region, the "Roadmap to Zero Net Energy Pubic Buildings" presents 5 steps states and municipalities can do now to make zero net energy public buildings (ZNEBs) a reality across the region within 15 years.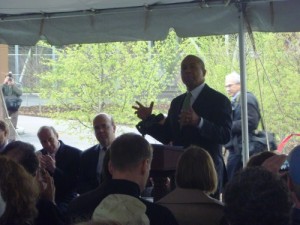 These critical steps are:
Develop a Path to Highest Performance of Exemplary Public Buildings – A comprehensive public campaign is needed to convey a consistent message to the broadest public audience.
Promote the Continued Development of Exemplary Public Buildings – States should continue to construct ZNE buildings each year.
Prioritize Measurement and Reporting of Public Building Energy Performance – The region needs to establish a standardized system for measuring and reporting building energy performance.
Implement Stretch Building Energy Codes – States should establish a performance –based stretch energy code for public buildings.
Create a Mechanism to Provide Capital for Energy Investments – Lack of capital funding is probably the single most important financial barrier to greater investment in efficiency and renewable energy.
The roadmap calls on the public sector to lead the charge toward ZNEB specifically because of its unique longer investment horizon outlook. ZNE investments provide the greatest opportunity for immediate action with the added benefit of substantial long term energy and costs savings. As the market for higher performance buildings matures, the public sector can serve as an incubator for new technologies and alternative design and construction prices. For additional resources on zero net energy public buildings, click here.