By Christina Rohrbacher | Tue, August 28, 18
Updated energy codes are critical to ensuring that all new construction homes or renovations are built to be efficient, comfortable, and safe. The conversation, however, gets more complicated when examining how energy codes, or a lack thereof, affect underserved populations.
The Challenge: Energy Burdens in Underserved Populations
According to a new ACEEE study on rural energy burdens, people living in rural areas experience a higher energy cost burden than their metropolitan counterparts. Energy burden is defined as the percentage of income a household pays toward energy costs. This burden becomes even greater when broken down into low-income, senior, and non-white demographics. Moreover, the Northeast and Mid-Atlantic region has a more stark disparity between the energy burdens of our metropolitan and rural populations.
Some opponents of updated energy code adoption cite that the added cost burden of a more energy-efficient home could fall on low-income homebuyers. While it can be understood where this concern comes from, as upfront costs for purchasing a home are already high, it is important to note that not only is the added cost insignificant, but the long-term operating cost savings of the home will more than make up for any added upfront cost. When looking at cost burden, it is more sustainable to purchase an energy-efficient home that ensures low energy costs throughout the occupancy of the home.
How energy codes and energy efficiency programs geared toward rural populations can reduce this energy burden is exemplified through ACEEE's spotlight on single-family homes. The estimated median annual energy cost for a single-family home in the rural U.S. is $2,083. When retrofitted with energy efficiency measures through energy efficiency programs, the median savings is $508, bringing the median annual cost down to $1,575. That's a 24.4 percent savings! Imagine cutting your energy bills by nearly a quarter each month. This is money that people can use for other bills, medicine, or investing in other home improvement projects.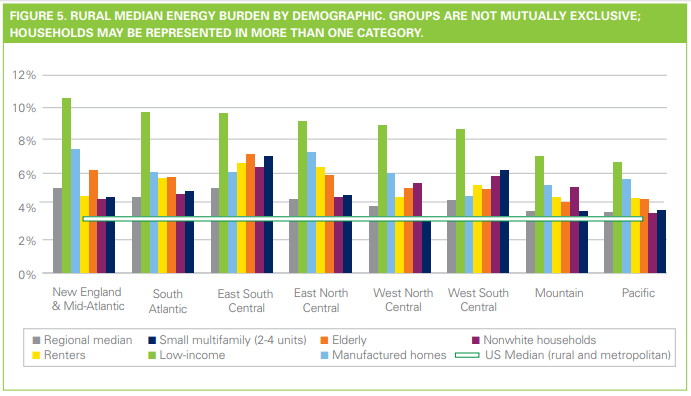 Source: The High Cost of Energy in Rural America: Household Energy Burdens and Opportunities for Energy Efficiency, ACEEE
The graphic above highlights the fact that New England and the Mid-Atlantic region experiences higher than average rural energy burdens at 5.1 percent, while low-income energy burdens average 10.6 percent. This points to the need for energy efficiency and energy code compliance programs that specifically target the low-income, rural residential sector.
The Opportunity: Low-Income EE Program Adaptations
NEEP published a REED Renderings blog post in May which highlighted the opportunities available for energy efficiency programs in the low-income residential sector. According to the blog, 43 percent of energy efficiency program savings in 2016 came from commercial and industrial (C&I) retrofits, 15 percent from residential retrofit savings, and just two percent from low-income retrofits. With most energy efficiency programs focusing on single-family residential, and three-quarters of rural residences being single-family homes, energy efficiency programs need only to be modified to reach rural areas while keeping the remainder of the programs intact. Opportunity is still available to claim energy savings from lighting by focusing on underserved communities such as rural markets.
Utilities can claim even greater savings if they focus on hitting historically-underserved sectors such as low-income and rural residential housing via an energy code compliance circuit rider. A circuit rider is a program in which trainers are deployed on a sort of "tour" to reach beyond the metropolitan areas to address energy code compliance issues and develop training programs specific to the needs of the rural residential building market.
A circuit rider initiative could help utilities to reach beyond metropolitan areas to ensure code compliance in rural areas. These kinds of programs not only help the residents of rural America but also the utilities. They benefit from lower operating costs due to fewer shut-offs that might occur from customers' inability to pay disproportionately high energy bills, improve customer satisfaction, and contribute to compliance with environmental legislation at the state level.
Putting the pieces together
Updating to the latest energy codes, comprehensive utility-sponsored energy efficiency programs, and energy code compliance enhancement programs should focus more directly on the historically-underserved rural residential sector, including special programs focused on low-income residences. By combining these initiatives, states, utilities, and builders can begin to address the disproportionately high energy burden faced by the rural residential and low-income sectors.
Additionally, lessening the rural sector energy burden will not only create more efficient and resilient living situations for these populations, but also highlight the opportunity to reduce carbon emissions. States in the Northeast and Mid-Atlantic region face lofty carbon reductions goals. Identifying underserved areas for energy efficiency programs is vital for states to meet their clean energy and carbon goals.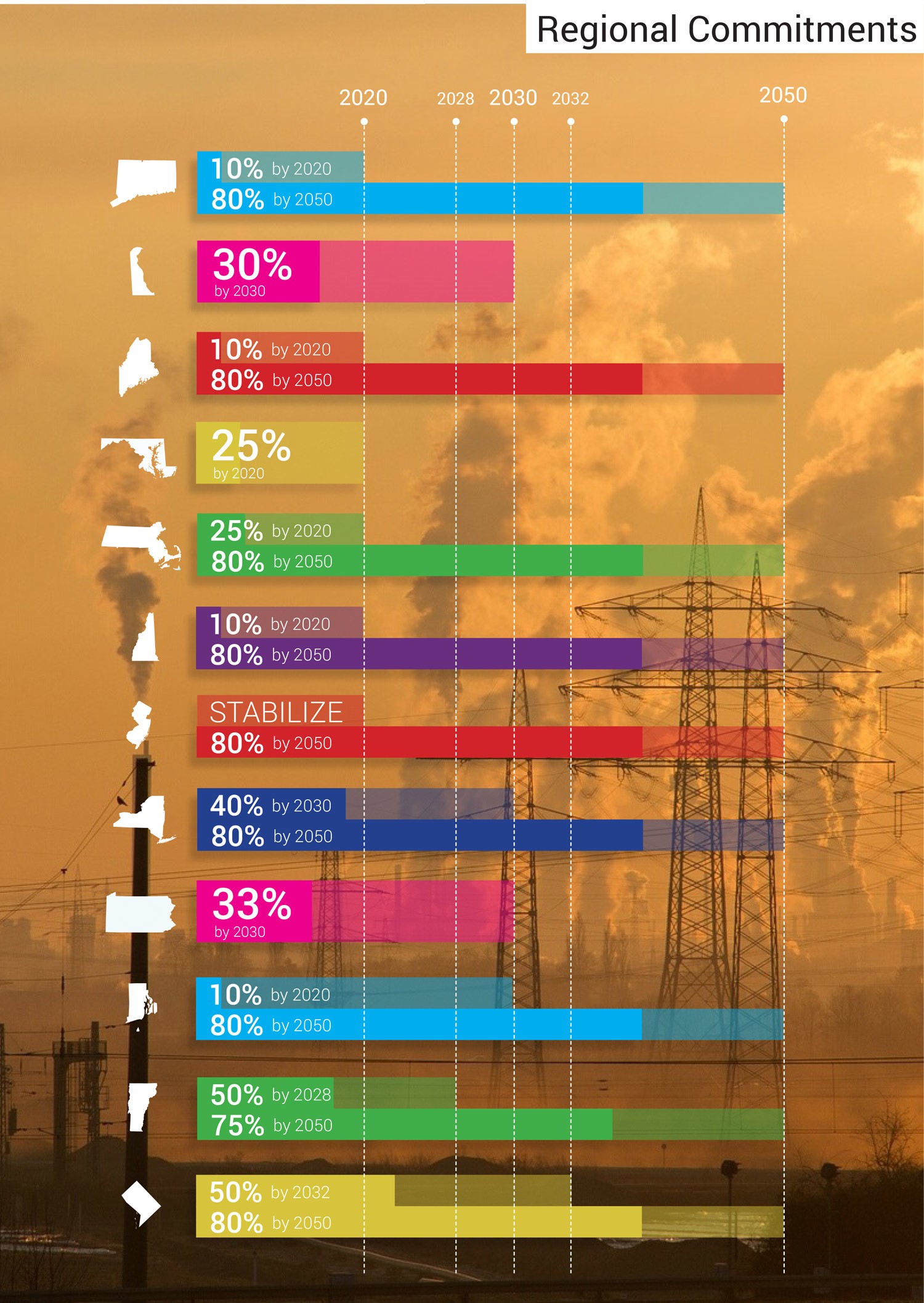 Moreover, the US Energy Information Agency (EIA) estimates that almost one in five households reduces food and medicine spending to pay energy bills at least one month per year. This is significant and scary. No one should have to forego paying for food and medicine so that energy bills are paid. In these cases, energy efficiency programs not only help fight climate change, but could potentially save lives and increase quality of life for folks living in these situations.