By Michael Sciascia | Wed, August 3, 16
Energy storage technology is ready to transform the way we use, manage, and view electric energy. However, the question remains: are we prepared for it? Last year, the U.S. market saw an unprecedented expansion of 221 MW of deployed storage, up 243 percent from 2014. The first fiscal quarter of 2016 saw 18.3 MW of deployment, a 146 percent increase from Q1 2015, indicating that energy storage will have another prolific year.
The growth of energy storage is particularly exciting given the numerous, wide-ranging benefits of its integration into the electric system — such as optimizing demand, reducing system and user costs, integrating renewables into the grid, and reducing the frequency and scale of outages. Put generally, the increased implementation of energy storage will foster cheaper, greener, and more reliable electricity — and a smarter, more efficient grid. It is a key component of what NEEP sees as Next Generation Energy Efficiency.
However, with growth comes growing pains. As energy storage continues to technologically mature and piques the interests of developers, investors, and enthusiasts alike, regulators are scrambling to identify the best fit for this pivotal technology in grid and market policies, which were not originally designed with storage and multi-directional power flow in mind. It is vital that the policies surrounding energy storage develop appropriately in order to avoid impeding its growth and implementation. To achieve this, it is important to identify the areas where policy must adapt and grow in order to usher in the full potential of energy storage technology. The following serves to outline three key regulatory obstacles that remain as a hindrance to grid-scale energy storage deployment and potential ways to overcome them.
1) Functional Classification Limitations
The nature of energy storage technology, in which energy can be injected and withdrawn in certain amounts over varying time intervals, enables it to perform numerous services on both sides of the meter pertaining to the generation, transmission, and distribution of energy. However, owners of energy storage assets are not fully able to earn revenue from its various applications due to regulatory restrictions from the Federal Energy Regulatory Commission (FERC).
Such restrictions require grid assets within regional markets under FERC jurisdiction to be categorized under a single asset category, effectively preventing the owners of such assets from obtaining revenue via multiple streams of service. Because of these restrictions, owners of such assets in regions of the country where power is coordinated by a Regional Transmission Operator (RTO/ISO) are limited to providing and drawing revenue from a single service when their assets could potentially be doing much more for revenue creation and grid functionality. In addition, by curbing the revenue potential for energy storage, functional classification regulations make the technology far less attractive as an investment opportunity, further limiting its ability to penetrate markets and participate in the grid.
FERC has stated its willingness to review proposals for energy storage assets to obtain revenue through multiple services on a case-to-case basis, but this poses another barrier due to the financial resources required to present such a case and the lack of guarantee that the case will be accepted. While regulators have reasonable concerns that allowing multiple classifications could create unfair advantages for storage-owning entities, the issue remains a barrier. One solution could be to form a new functional classification for energy storage. However, this would lead to further confusion over the functional classification of new technologies that continue to transcend functional definitions, and FERC has stated that it does not see value in adding classifications over creating new rules within classifications.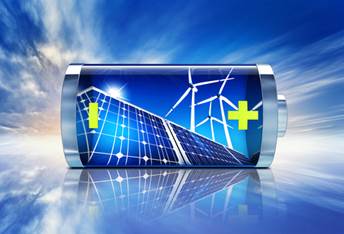 Other solutions, proposed in comments by the Energy Storage Association (ESA) in response to an April 2016 request for comment issued by FERC, show that potential, practical solutions exist within the framework of current functional classifications that have the ability to optimize energy storage assets while mitigating market imbalances. While it remains unclear if such strategies are viable, regulators must comprehensively re-evaluate the functional classification system in order to remove boundaries that prevent technologies from providing service in areas of the power system where they are capable.
2) Inconsistency in Rules across Regional Markets
FERC Order 755 requires all RTO/ISO regions to meet certain rates and market standards for energy storage services, but it does not provide specific plans or mechanisms with which to implement them. This design gives regional regulators autonomy over rules regarding market operations. While autonomy is preferable as it allows rules to be tailored to the markets of each specific region, it has resulted in notable discrepancy in the treatment of energy storage across the various RTO/ISO markets.
This discrepancy is increased through varying rules in non-RTO/ISO markets. Such discrepancies, which include differences in compensation mechanisms, capacity requirements, and participant restrictions in certain market services, have created a significant barrier to entry for energy storage developers due to the need to undergo an entirely different market assessment for each potential deployment into a new regional market.
The resources required to execute market assessments and build business models for each potential market make deployment into new markets a more costly and risky venture, which is often enough to discourage developers from expanding into new regions. Additionally, regional market discrepancies boost the uncertainty of profit potential that comes with the deployment of an energy system, which is especially prevalent for relatively new and unproven technologies such as energy storage. Such heightened uncertainty can discourage investors from financing energy storage development by increasing the perceived investment risk.
The task of diminishing the inconsistency in rules across markets is difficult to achieve without establishing narrower FERC mandates, consequentially stripping regional transmission planning organizations of some their autonomy over market operations. To avoid overly-prescriptive federal mandates, another option would be to promote communication between regional transmission planning organizations to better coordinate market policies regarding energy storage. FERC has already taken a step in this direction with the issuing of Order 1000, which calls on regional regulators to improve coordination between neighboring transmission planning organizations in their planning processes and cost allocation methods for new transmission investment.
Following the general template of this order, market inconsistencies in energy storage could be lessened by the issuing of a similar FERC order for regional ancillary service markets. This strategy would preserve regional autonomy while fostering a closer alignment of regional policies, resulting in a simpler market landscape, enabling developers and investors to more efficiently evaluate and predict energy storage performance.
3) Regulatory Lag
The development and adaptation of policy surrounding energy storage has historically straggled behind the rapid maturation of the technology itself. In addition, there are several instances where regions have been slow to implement policies after they have been issued. For example, ISO-NE has yet to implement the "pay for performance" measures issued under aforementioned FERC Order 755, and is not planning to do so until 2018. Slow policy development and implementation is crucial to highlight, as the failure to quickly form and implement policies designed to overcome obstacles to energy storage deployment is an obstacle to deployment in of itself. Such failure prolongs the market inconsistencies and classification issues described above, along with any other existing policy barriers. In addition, it propagates uncertainty over market viability and potential returns for energy storage developers and investors.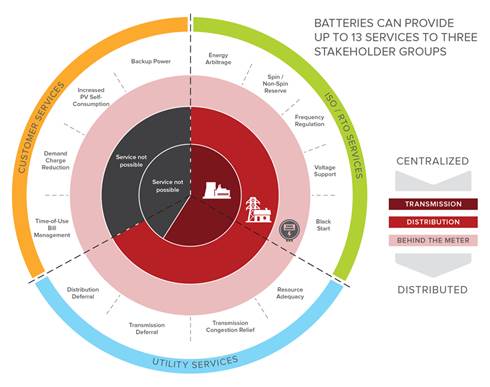 The protracted advancement of policy can be attributed to the high level of complexity surrounding energy storage regulation. This stems from having numerous stakeholders, who have varying and often conflicting interests, along with the need to inclusively assess the outcomes of potential operational and market alterations. While stakeholder interests are inherent, they must not be allowed to overshadow the innovative, distinct ability of energy storage.
Allocating additional resources to assessment and shortening the assessment process through modification are possible solutions. In an attempt to prioritize assessment speed, FERC has been urging regional regulators to speed up such processes. Still, greater priority must be placed on the fundamental importance of overcoming the identified barriers for energy storage in order for regulatory processes to garner the appropriate attention and resources needed.
Forging a Path
While grid-scale energy storage deployment stands to bring a myriad of benefits, its entrance into the electric system has been complicated. The game-changing nature of the technology itself, which gives it such exceptional value, has also caused storage to meet several barriers as it does not fit into the template of our current system. These barriers limit compensation and ability to provide services, complicate the evaluation of market performance for developers and investors, and slow the creation and implementation of policy, among many other effects. To unlock the full potential of energy storage, these barriers must be identified and addressed in an appropriate and timely manner to ensure that regulators can contemporaneously align policies with available technologies.
For more background on the important role of storage, see our prior blog on Massachusetts' energy storage initiative. The Massachusetts Clean Energy Center, together with the state's Department of Energy Resources, will soon be releasing a study on energy storage technologies, here. NEEP will continue to monitor and report on state efforts to integrate storage with energy efficiency and other demand side resources.