By Fritzi Pieper | Thu, October 18, 12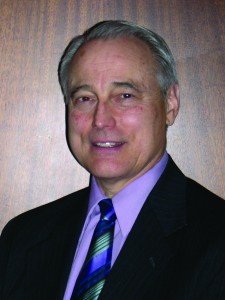 Dr. James Brodrick, lighting program manager for the U.S. Department of Energy, Building Technologies
Program
As the DesignLights ™ Consortium (DLC) gears up for the
2012 Stakeholder Meeting
October 28-31 in Atlanta, GA, we had a chance to sit down with the meeting keynote speaker, Dr. James Brodrick, lighting program manager for the U.S. Department of Energy, Building Technologies Program, to talk about his perspective of the future of the LED lighting market. Drawing on extensive technical and market knowledge, Dr. Brodrick has designed a comprehensive DOE strategy to move SSL from lab to market. During this interview, Dr. Brodrick spoke to the value of the DOE and the DLC in advancing quality, performance, and energy efficiency in LED lighting.
DLC: What major trends do you see evolving in the LED industry in 2013? What are the major barriers to overcome?
Brodrick: LED lighting has a foothold in the market, with a wider range of products arriving every month. While the initial focus has been on replacement lamps, I think 2013 will bring more innovative designs that take advantage of other things LEDs can do, like work with sensors and controls.  As for barriers, dimming is still the "elephant in the room" and there's still plenty of room for cost and performance improvements, and the need for education remains significant, because it's not a "cut and paste" technology.
DLC: What is the role of DOE in advancing quality, performance, and energy efficiency in LED lighting?
Bridrick:  DOE is in a unique position as the trusted source of unbiased information for educating buyers on SSL technology. For example, testing results from the CALiPER program tell us what performance issues need more attention. GATEWAY demonstrations give us real-world experience with products, and lessons learned from each pilot project are made public, so everyone learns from them. The studies and reports we do provide objective market and technical information to help the public make informed decisions on the technology. And DOE leadership with industry workshops, roundtables, and working groups, provides forums for stakeholders to meet to address the quality, performance, and efficacy hurdles. By steering the ship collaboratively toward high quality, high performance products, everyone on board wins. This fits right in with DOE's ultimate mission, massive energy savings.
 DLC: The 2012 DLC Stakeholder Meeting will bring together professionals from all over the lighting industry, including but not limited to luminaire manufacturers, energy efficiency program managers, and lighting designers. How significant of an opportunity do you perceive such a vast representation of the industry at one meeting to be? How can gatherings such as this one help advance the LED market?
Brodrick: It's going to take a sea change, and every time we gather to discuss moving the market forward, we engage and educate in ways that will make it happen faster.  It's important that stakeholders talk and work together, and learn from each other.
DLC: Lighting tends to be the low hanging fruit for efficiency upgrades. Is this still true? Why in commercial markets is it still such an untapped opportunity for energy savings?  
Brodrick: Lighting is often the low hanging fruit, but some incumbent technologies remain good choices for a number of reasons. When LED products can truly compete with incumbent products on price and performance, commercial market penetration will increase. As we've seen with street lighting, cost trends are moving in the right direction.  There's much that LEDs can do to add value that we're just starting to see—from tracking consumer behavior in a retail store to color changing to improve the user experience—that will drive the value proposition for commercial buyers in the future.
 DLC: You are addressing the 2012 DLC Stakeholder Meeting as the keynote speaker in Atlanta October 28-31.  This annual meeting will provide attendees with many opportunities to network with industry leaders and explore the latest innovations and opportunities in the LED market. What is the most important conversation in the LED market that conference attendees should/will address at this conference? What do you hope to gain from the meeting?
Brodrick: It's always valuable to hear from a range of perspectives, and the chance to meet face-to-face is especially important in our increasingly electronic world. SSL technology is changing so fast, it's important to stay engaged and current, so I am especially looking forward to the lighting controls panel, and learning the latest on how the DLC is working to connect its diverse stakeholders. We will be much more effective transforming lighting if we work together than if we attempt it alone.
 The Designlights Consortium Stakeholder Meeting will be in Atlanta, GA from October 29-31 and will welcome industry experts from utility and energy efficiency programs, as well as the manufacturing, testing, installation and government fields. To find out more and to register, visit
http//www.dlcmeeting.org.