By neepenergy | Fri, February 3, 12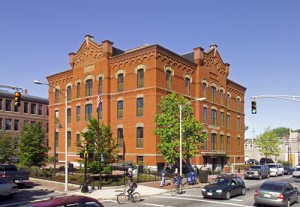 Naturally, I waited until the last possible day of the year to apply for my resident parking permit at the
City Hall
Annex in Cambridge, Mass.  When I entered the lobby, the line of permit-seekers was at least a hundred people deep, winding around the entire first floor of the building, up the staircase and back down again.  What I expected to be a high-anxiety situation filled with people sighing loudly and making rude comments under their breath turned out to be a surprisingly pleasant experience. People waited patiently, read their books, chatted with their neighbors, and played games on their cell phones until it was their time at the window.  Why such a pleasant atmosphere? I'd like to think that the vibe had something to do with the fact that we were all waiting inside Cambridge's first municipal "green" building.  The building is a historic renovation of an 1871 schoolhouse—with big windows, an upgraded ventilation system, non-toxic paint and finishes, and geothermal heating.  The walls of the lobby are covered in nature-inspired murals depicting the City's commitment to the environment.  Cambridge taxpayers pay less for utilities to power this building – and procrastinators like me now have a beautiful place to wait in line to get a permit. Cities and states across the country have committed to building their public facilities to higher environmental and energy standards than the base building code requires in order to save money, reduce environmental impact, and demonstrate their leadership on energy and environmental issues.  Building high performance public buildings is not a perfect science, though. And neither is implementing these policies. State policies usually require design teams to follow rating systems, such as USGBC's LEED for new construction or Green Globes, which can be a costly and complicated process, especially for public projects. These rating systems are not written in code-enforceable language, which can makes it difficult for inspectors and public officials to enforce them as policy.  With so many credits to choose from in these rating systems, states may not be getting the buildings they hoped for –buildings that maximize energy efficiency and indoor air quality, for instance. The newly developed
International Green Construction Code
(IgCC), however, may offer states a solution to these implementation issues.  The IgCC, which will be published in March 2012, is the first model code to establish requirements for energy conservation, water efficiency, site, materials and so forth.  The International Code Council (ICC) worked closely with partners such as
USGBC
and
ASHRAE
to develop this code.
Rhode Island
is the first state in the country to adopt the IgCC as a compliance path for meeting its green building requirement for publicly funded buildings. The state hopes that it will be an easy to follow alternative to LEED or Green Globes, as well as put the state on the path to zero net energy.  The IgCC utilizes the
Zero Energy Performance Index
(zEPI) for its energy requirements, which establishes zero net energy as the absolute goal. On Thursday February 2, 2012 the Rhode Island Building Commissioner's Office, the Rhode Island Green Building Council and AIA Rhode Island sponsored a free training for building professionals to familiarize themselves with the IgCC.  The state has worked hard to adapt the green code to fit the priorities of the state. States throughout the country should keep their eyes on Rhode Island as it takes this innovative approach to building healthy, vibrant public buildings that save energy, cut costs, and inspire future generations of taxpayers.  Green codes may eventually replace rating systems as a simpler, more enforceable public policy tool.