By Elizabeth Titus | Sun, April 21, 19
Evaluation work is important.
It's a necessary practice to inform both program planning and program improvement. It's important to plan and to look back to document and improve program performance.
As we know from the ACEEE Scorecard, the Northeast region is top-ranking in energy efficiency. And, while it may go unsung, program evaluation in the region is similarly stellar. Some examples of note:
Rhode Island was among the first in the country to put the National Standard Practice Manual into practice as a cost-effectiveness strategy that aligns well with policies.
Massachusetts is an exemplar for analyzing the non-energy impacts for all sectors, from low income to commercial and industrial.
New England states have a long tradition of collaborating to achieve consistency, transparency in evaluation practice as well as relevant avoided costs. Via participation in the Regional EM&V Forum, energy efficiency stakeholders produced protocols that contributed to the development of the national Uniform Methods Project.
New England states also funded several publicly available "8760" (all day and full year) end-use loadshapes capable of serving the whole region flexibly enough to be able to inform emissions planning and assess program performance at any point in time.
For nine years, three mid-Atlantic jurisdictions (Delaware, Maryland, and Washington D.C.) have teamed up on a Technical Reference Manual, demonstrating that something often monumental and complex can be delivered efficiently and economically across utilities and states.
Now, the Northeast is pioneering research on Advanced M&V in various ways, from "M&V2.0" research by the Connecticut utilities, to Pay-4-Performance programs in New York, Washington D.C. and Vermont, willingness for innovation in Massachusetts planning, and software product development that leveragesg smart devices by VEIC and others.
A March analysis by the Edison Foundation Institute for Electric Innovation quoted by Robert Walton in the 3/6/19 Utility Dive shows that efficiency programs are becoming "locational, time-based, data-driven, and automated." In this region, the door is open to an evaluation environment that is forward-looking - focusing on rapid, two-way feedback, whole-building level impact reporting. So, what else is needed and what's next?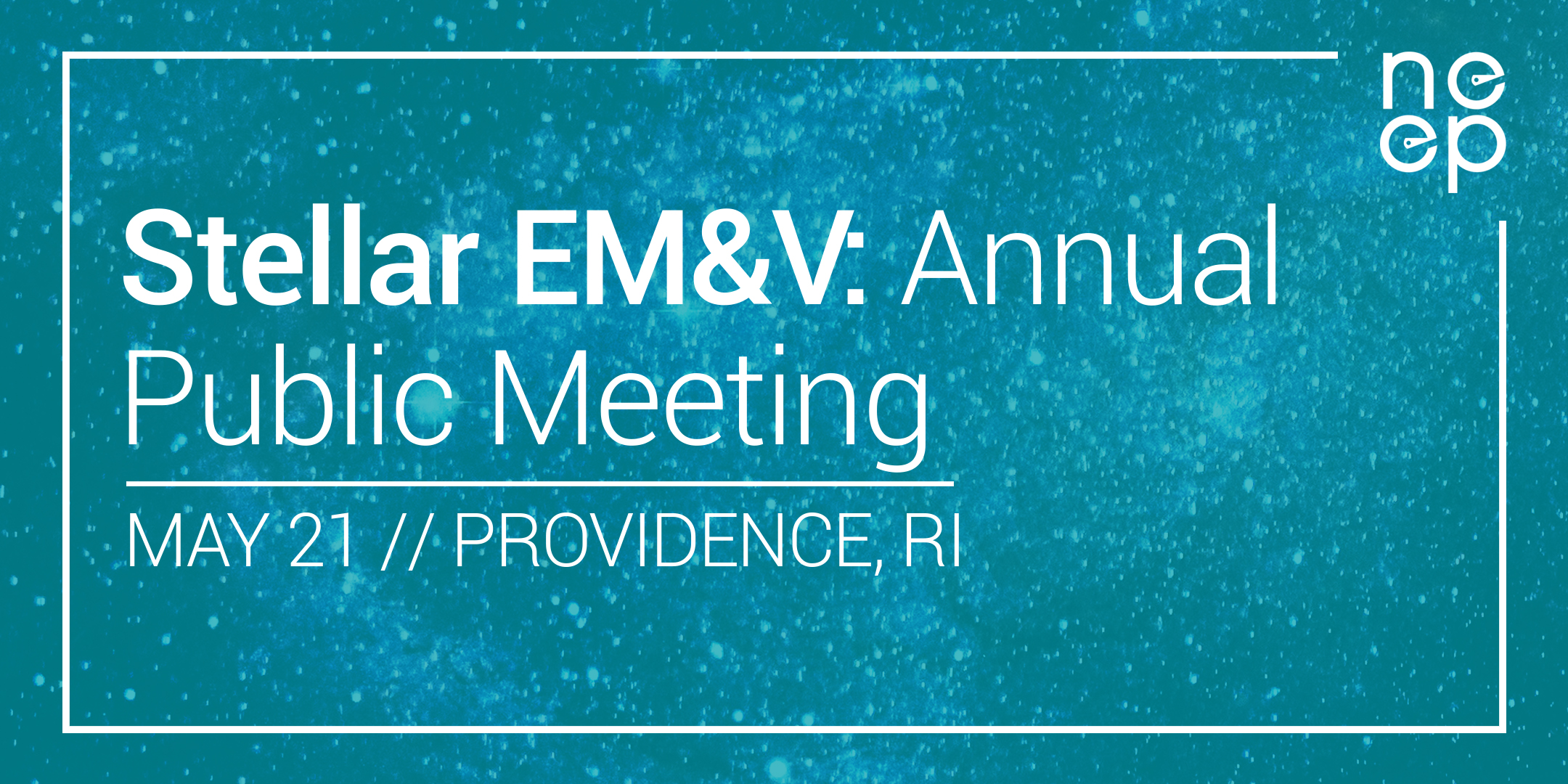 On May 21, stakeholders from the region are gathering at NEEP's EM&V Annual Public Meeting to discuss exactly that: Stellar EM&V. You're invited to Rhode Island's inviting Hotel Providence where we will be looking up, out, and beyond. Since the policies and goals in the energy industry are changing, aggressive, interactive, and potentially disruptive to status quo, our goal is to think about how EM&V can help orient the industry on this ever-evolving and complex journey.
Some of the questions we'll tackle are: What roles can EM&V play? What questions and what guidance are relevant? What do regulators, program administrators, vendors, policymakers, and researchers think about the need for the alignment of metrics with broadened policy direction and goals? What tools and resources (loadshapes, cost-effectiveness, program designs) can serve the industry and the direction in which it is heading?
Human civilization expanded through navigating by the stars and has been assisted over the years by evolving technology. If U.S. engineering and creativity is capable of launching a Tesla into outer space and roving the planet Mars, stellar energy efficiency industry experts are sure to have some moonshot ideas. Let's turn our stakeholders' attention to shooting for the stars, to conserve, and to wisely use the energy on our planet. While we're at it, we'll also navigate around any black holes.
Join us in Rhode Island. Register now and book your room at Hotel Providence before the end of the special rate on April 30.